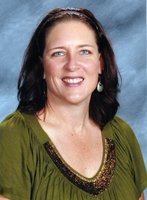 Kristin Ann Hutcherson
Kristin Anne (Kulling) Hutcherson, 42, of Tulsa died on February 7, 2017 in Tulsa, Oklahoma.
Kristin, a devoted and loving wife, mother, and elementary school teacher, was born in Moore, Oklahoma, on March 12, 1974 to Frank and Dot Kulling. She moved to Stillwater, Oklahoma, when her father was assigned to Oklahoma State University as a Reserve Officer Training Corps Assistant Professor of Aerospace Studies. She graduated from Stillwater High School in 1992 and then attended Oklahoma State University. She graduated with a Bachelor of Science degree in Psychology and a Master of Science degree in Education. She was assigned to Hoover Elementary School in Tulsa for her student teaching internship. While at Oklahoma State University she was a member of both the Cross Country and Track teams, as well as the Zeta Tau Alpha sorority. She attended Zion Lutheran Church while living in Stillwater. She moved to Tulsa in 2001 after accepting a teaching position at Hoover Elementary School. She married Chad Hutcherson on December 4, 1999.
Kristin was a public servant and had a passion for teaching children and introducing them to the life-long benefits of fitness. She was honored as Teacher of the Year for Hoover Elementary School and was selected for an international teacher exchange program where she traveled to China to share teaching experiences. She also initiated a highly successful running club at Hoover Elementary School which routinely resulted in first-place recognition during school challenges at local races. She attended Southminster Presbyterian Church in Tulsa.
She is survived by her husband, Chad Hutcherson, daughter Madelynn, and son Luke of Tulsa. She is survived by her parents, Dot and Frank Kulling of Stillwater, Oklahoma. She is survived by her husband's parents, Binnie Hutcherson of Tulsa and Henry Hutcherson of Oklahoma City. She is survived by her siblings who are: Laura and her husband Stephen Mitchell and their children Matthew Mitchell and Miranda Loflin (husband, Jacob) of Colorado Springs, Colorado; and Michael and his wife Kristen Kulling and their children Mackendrick and Katelin of Stillwater. She is survived by her husband's sister Amanda and her husband Amory Fuller and their children Eliana, Elias, and Emelia of Tulsa.
Kristin will lie in state from 10:00 a.m. to 8:00 p.m Friday at the Ninde Brookside Funeral Home and her service will be 1:00 p.m. Saturday at the Southminster Presbyterian Church. She will be privately interred at Memorial Park Cemetery.
Ninde Brookside Chapel ninde.com 918-742-5556