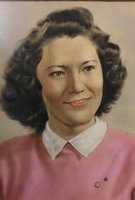 Linne Ilean (Mizell) Turpen Madison
Linnie Ilean (Mizell) Turpen Madison was born December 9, 1928 in Creek County, OK to Amos Ozro Mizell and Linnie Alberta (Ford) Mizell and passed from this life at home, surrounded by family on April 7, 2017 at the age of 88.
Linnie had several years of college at Eastern State University in Ada, Ok and at Tulsa University. She and her sisters taught a couple of years in one-room classrooms before Ilean married and became the mother of 3 daughters. She was a full time employee of T.D. Williamson where she retired in 1994.
Linnie loved collecting birds for her china cabinet and planting rose bushes in her yard. She usually had fresh cut flowers on her kitchen table and loved having people come by to visit her often. She considered her children, grand children, siblings & their spouses as her best friends. She and Grandpa Jerry were giving people and shared their hearts and pocketbooks with whomever was truly in need. They sowed into their families without fault and helped them establish themselves in the faith & in the business world. Their most favorite things were their kids and grandbabies… Together, they LOVED WELL!
Ilean was preceded in death by her parents; her husbands, John Curtis Turpen and D.L. (Jerry) Madison, Jr.; her daughter, Margaret Davis; and her siblings, Reba Morton, Lolie Sutton, Silvie Dean Jones, Edgel Mizell and LaGene Mizell. She is survived by her daughters and sons-in-law, Karen & Lloyd Payne, Sherry Poindexter- Turpen and Dennis Davis; her stepdaughter and son-in-law, Tanya & Albert Cantrell; her stepsons and daughters-in-law, Lyle Lee & Patty Madison and Roger & Karen Madison and Linda J. Madison; 32 grandchildren; 24 great grandchildren; and 3 great great grandchildren and many friends that are family.
Visitation will be held at the Ninde Brookside Funeral Home Tuesday, from 10:00 a.m. to 8:00 p.m. A funeral service will be held 10:00 a.m. Wednesday, at the Memorial Park Cemetery Chapel. Entombment will follow in Memorial Park Mausoleum.
Ninde Brookside, 918.742.5556, ninde.com