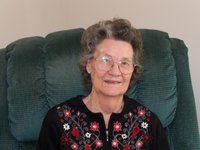 Patsy Pauline Mathias
Patsy Pauline Mathias was born in a tent on an oil lease near Bixby, OK on June 9, 1926 to Cornelius "Neal" Grant Pilant and Latha Leola (Smith) Pilant. She passed from this life on Monday, April 17, 2017 at the age of 90.
Patsy led a life filled with love. She loved the Lord, loved her family, and loved nature. Worshipping with friends at Jenks Free Will Baptist Church, cooking another of her famous fried chicken dinners with the family gathered around, and watching Sam the Squirrel and the beloved hummingbirds at Lake Tenkiller were some of life's pleasures that gave her the most joy.
Patsy married Johnnie Paul Mathias on April 5, 1946 in Columbus, KS. Johnnie preceded her in death in 2001. She was also preceded in death by a son, Jimmie Lloyd Mathias; sisters, Mildred Pilant, Beverly Hutchison and Edna Landers; brothers, Luke, Roscoe, Bill and Leroy Pilant and a granddaughter, Kelly Mathias.
She is survived by her children, Susan Maria Killgore of Tulsa, OK, Pamela Gayle Wellman of McKinney, TX and Brian Keith Mathias and his wife, Margaret of Inola, OK; a sister, Ruby Mills of Houston, TX; 8 grandchildren: Chad, Jared, Tina, Robert, Douglas, Amber, Ashley and Amanda; 9 great grandchildren: Levi, Aubrey, Kacee, Ty, Adalynn, Timothy, Sammy, Kolten and Konner.