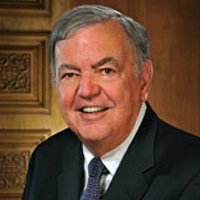 Lohman K. "Dick" Dickason, Jr.
Lohman King "Dick" Dickason, Jr. was born March 31, 1942 in Tulsa, OK to L. King Dickason, Sr. and Irene (Beul) Dickason. He died peacefully Saturday, August 5, 2017 at the age of 75. He was a 1960 graduate of Edison High School and attended Dartmouth University, before returning to Tulsa where he graduated from the University of Tulsa in 1964. He was an active member of the Kappa Sigma fraternity, where he made many lifelong friends.
He joined the family business, Dickason-Goodman Fine Furniture, which was founded in 1894 by his grandfather W.S. Dickason. Dick took over as President in 1969. Dick was involved in the community, serving as President of both the Oklahoma Retail Merchants Association and the Board of Trustees of Children's Medical Center, and as a Trustee of Brookside State Bank and Holland Hall School. He closed the furniture store in 1990 to pursue an interest in oriental rugs, becoming an importer and wholesaler to furniture stores all over the United States and Canada, as well as a consultant to furniture stores for Lynch Sales Company. His son, Chris joined him in the business in 2001. He often referred to himself as a 200 pound Fed Ex package due to the constant travel demands of his business. At the same time, he carved out abundant time to travel world-wide for pleasure with his wife, Lynn, traveling to Africa, New Zealand, India, Asia, Europe and other exotic destinations. Dick had an astonishing number of contacts all over the country, and many of his business relationships became fast friendships, both here and abroad. He was loved by everyone he came in contact with for being so kind, caring, fun and an amazing storyteller. He never could quite retire, he had such a passion for his business and worked diligently until his passing.
He is was preceded in death by his parents and his sister, Marie Dickason Dysart. He is survived by his wife, Lynn; his son, Chris; daughter-in-law, Michelle; and grandson, Connor all of Tulsa; and his niece, Anne Dysart Vergiels of Annapolis, MD.
A memorial service will be held 2:00 pm Thursday, August 10, 2017 at Memorial Park Cemetery Chapel in Tulsa. A reception will follow at the Memorial Park Family Center. In lieu of flowers, friends may contribute in Dick's memory to Up With Trees or Muddy Paws/Pets Helping People.