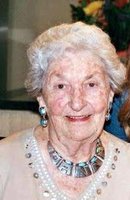 Danna Mahoney Meador
Danna Mahoney Meador was born on September 15, 1932 in Tucson, Arizona to Dr. Daniel Mahoney & Minerva Ward Mahoney. Danna passed from this life on Wednesday, November 29, 2017 at the age of 85.
Danna grew up in a family of six children. She attended St. Mary's of Notre Dame followed by the University of Arizona and graduated from St. Joseph School of Nursing.
Danna married Newton Eugene Meador III, a Lieutenant in the US Air Force in 1954. Together they raised six children. Danna was very passionate about helping people. She practiced as a nurse at St. John Hospital, Springer Clinic & then as a private nurse. However, her greatest passion was taking care of her family. Danna will always be remembered for her sweet & fun loving spirit. She is survived by her sister Colleen Edwards; children: Mark & his wife Susan; Dan (Brenda); Julianne Blesi & her husband Jim; Grandchildren: Kelly, Bryan, Emily, Jake (Alexandra), Melanie, Brady, Danny Bell (Libby), Jimmy, Dan Blesi, (Katie), Jennifer (Greg).
Visitation will be Sunday, December 3rd from 10:00 a.m. - 4:00 p.m. at Ninde's Funeral Home. There will be a Rosary following the visitation at 4:00 p.m. in the Ninde's Chapel. A funeral mass will be celebrated at 11:00 a.m. on Monday, December 4th at The Church of St. Mary. In lieu of flowers, the family has requested memorial gifts be made to Porta Caeli Hospice Home in memory of Danna Meador (P.O. Box 580460, Tulsa, OK 74158).
Ninde Funeral Directors, Brookside Chapel (918) 742-5556 www.ninde.com