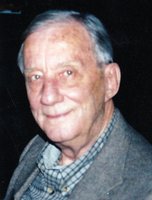 James E. "Jim" Rainey
James "Jim" Rainey was born April 11, 1931 in Bartlesville, OK to Duane & Irene (Warren) Rainey and passed from this life in Tulsa on April 10, 2018 at the age of 86. He attended school in Bartlesville until his 9th grade year when his father transferred to Chicago. The family returned to Oklahoma in time for his senior year in high school. He attended Tulsa Central High School where he became the starting Center on the varsity basketball team. He was a graduate of the University of Tulsa.
Jim served two years in the Army in Germany where he developed his lifelong love of travel. He was a leader and innovator in the Air-Cooled Heat Exchanger industry. In the early '60s he founded the Rainey Corporation (which he later sold to GEA of Germany) and Shell and Tube, Inc. Twenty-nine years ago he started TEK-FINS, Inc. and remained active in the company until his death.
Jim loved travel, history and writing about those two topics. His family and friends would look forward to his novellas—whether it was an Irish adventure, the Iditarod in Alaska, Big Bend National Park or traveling to Europe on Concorde and QE2—he made his trips something everyone wanted to experience.
He was preceded in death by his parents; his brother, John; and his grandson, Hunter. Jim is survived by his wife of 40 years, Beth; his children, Chris Rainey (Donna Merkle) of Tulsa, Frank Wolfe (Dawn Earp) of Tulsa, Kate Sharman (Timothy) of Alexandria, VA, Scott Rainey (Martha Bowles) of Houston, TX and Robin Fisher (Kevin) of Mill Valley, CA; his grandchildren, Claire, Serena, Grace, Walker and Taylor; and his beloved miniature schnauzer, Amelia.
A memorial service will be held at Ninde Funeral Home, 3841 S. Peoria 3:00 p.m. Friday, April 20 with a reception immediately following.
In lieu of flowers the family suggests donations in his name be made to Porta Caeli, 2440 N. Harvard, Tulsa, OK 74115 or The Salvation Army, 924 S Hudson Ave, Tulsa, OK 74112.
Ninde Brookside / 918-742-5556 / www.ninde.com