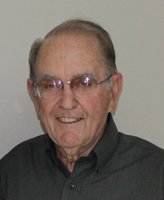 Harry Lee Kaufman
Harry Lee Kaufman was born in Kingman, KS on January 28, 1929 to Amos and Amelia Kaufman and passed away on March 27, 2017 at the age of 88. Harry was a member of Brookside Baptist Church and also attended services at University Village, faithfully serving our Lord every day and always available to lend a hand.http://ninde.com/211/Ultra/Ninde.png
The Kaufman Family moved to Gentry, AR where Harry and his eight brothers and sisters attended Gentry High School. He joined the Navy in 1948 as a Seaman Apprentice and was honorably discharged in 1953 with the rank of Control Tower Operator 2nd Class. Harry then returned to Gentry where he met and married Patsy Lou Webb. They moved to the Ponca City, OK area when Harry began working for Southwestern Bell as a lineman. After retiring as a Right of Way Engineer in Tulsa, Harry joined Coates Field Service and he and Pat traveled around Texas, Kansas, and Oklahoma in their travel trailer always making new friends wherever they worked. Along with family, they enjoyed time at their property near Jay, OK, where treasured memories were made sitting around the fire pit.
While living at University Village, Harry and Pat became very involved in many activities, including Wii bowling, choir, Bible study, and harmonica club. They made an impact on many lives even though their stay was only a year. One of the commitments that was most important to Harry was changing the message on the church signs at Brookside Baptist, Woodland Acres Baptist, and First Baptist, Jay. The Tulsa World recognized him in an article in 2006 and his messages have been something that countless passing motorists look forward to reading.
Harry was preceded in death by his wife, Pat, on January 1 of this year and siblings Dorothy, Louise, Vic, Leo, Richard, and Eldon. He is survived by daughters Debbie (Bill), Dawna (Tom), Dana (Doug), foster son Peter Merton and his family, six grandchildren and six great grand children of whom he was very proud, siblings Opal, and Ellen (Glen), sisters-in-law Esther, Faye, and Jane, a large extended family, and many friends near and far.
He will be greatly missed.
In lieu of customary remembrances, the family respectfully requests contributions to the: Gideons International - P.O. Box 700802, Tulsa, OK 74170 or to Brookside Baptist Church, 3615 S. Peoria, Tulsa, OK 74105, or University Village Benevolence Fund - 8555 S. Lewis, Tulsa, OK 74105.