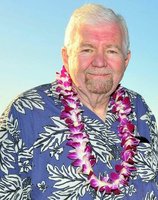 Durward "Dean" Elbon, Jr.
Durward "Dean" Elbon, Jr. was born in Columbus, Ohion on August 5, 1947 to Durward Dean Elbon, Sr., and Lola Mae (Reynolds) Elbon. Dean lived his first few years in Ohio before moving on an adventure to Tulsa, Oklahoma. Dean was the oldest of 4 children. Dean attended Edison High School in Tulsa, Oklahoma and furthered his education at NSU before entering into a career at the United Postal Service. During his work at the post office he met the love of his life, Jane Goodpasture. Jean and Dean were married in Tulsa on February 14, 1981.
Dean led a life full of laughter and love. Often know for being ornery, Dean was always quick-witted, willing to share a joke or make someone laugh. After suffering a brain injury more than 20 years ago, Dean never lost his charm or wit or ability to tell a good story. He loved to share stories "about the old days before there were air conditioners in Oklahoma", Hopping the fence to his apartment to go to the golf course to make money picking up cans or cleaning golf balls, or about visiting his uncle in Ohio during the summers. Even though he was quiet, Dean loved engaging with others and never knew a stranger. Dean was more of a "stay at home" kind of guy but loved traveling to Hawaii with his wife and daughter. Dean was always their number one fan and supporter.
Dean was preceded in death by his father, Durward Dean Elbon, Sr., mother, Lola Mae Elbon, wife Jane Elbon, sister, Nancy Langston, and granson Jordan.
Left to mourn Dean's death and give thanks for his life are his daughter Christa (Elbon) Turpin and son-in-law Matt Turpin of Tulsa, daughter Anne (Elbon) Cotton of Broken Arrow, son, Michael Elbon of Wagoner, sister, Jennifer Elbon-Smith of Jenk, brother, Brett Elbon and sister-in-law Sandra Elbon of Tulsa, nieces Jennifer (Langston) Brackett, Brennan Smith, Grace Greer Elbon and nephew Dakota Smith.