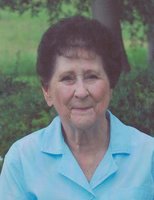 Donna J. Smith
Donna J. Smith, 89, Records Administrator for Thifty Car Rentals passed from this life on May 12, 2017 in Tulsa, Oklahoma.
Donna was born to William and May (Freeman) James on August 22, 1927 in Parson, Kansas.
She was preceded in death by her husband, Ebert D. Smith on December 10, 2014.
Donna is survived by her children, Vickie and husband Dudley Gage, Lori and her husband Roger Hargrove, Sharan Smith and Evelyn Bruton. Grandchilden, Larry Pryor and his wife Angela, Cori White and her husband Cody, great grandchildren, Kaitlyn Pryor, Caden White, Rylan White, Grayson Pryor and Reese White.