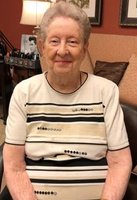 Virginia D. Marks
Virginia Daniels Marks, 87, passed away on Wednesday, January 30, 2019. Virginia was born in Pottsville, AR, the daughter of Amos Wade and Bessie Jane Tucker Daniels. She earned her B.S. from Arkansas Tech and her M.A. from Peabody College. She married Leslie DeWitt Marks from Booneville, AR, on July 18, 1952. They moved to Tulsa where Virginia worked for the Mabee Company and taught business at Edison and Central High Schools. She then taught business at Tulsa Vo-Tech for 25 years, retiring in 1993. She was an active member and served as organist for Faith Cumberland Presbyterian Church for many years. Virginia's greatest joys were her children and grandchildren. She enjoyed cooking for her family and was famous for her pecan pie, biscuits and gravy, and cherry dessert.
Virginia was preceded in death by her husband, Leslie, of 54 years. Survivors: daughter, Jennifer Martin and her husband Charlie of Florence, KY, son David Marks and his wife Melinda of Albuquerque, NM, grandchildren Stephanie, Emily, Jared, and Daniel, sisters Betty Bowden of Russellville, AR and Sue Parks of Marshall, AR, and many nieces and nephews. The family would like to thank her special friend, Frank Whitman, for his dedication to and care for Virginia.
Family visitation 6-8 pm Sunday, February 10, at Ninde Chapel, 3841 S. Peoria. Service 11:00 am on Monday, February 11 at Ninde Chapel.
Interment in Memorial Park. Memorials may be made to Grace Hospice, 6218 S. Lewis Ave. Tulsa, OK 74136
Ninde Brookside Chapel, 918-742-5556, www.ninde.com