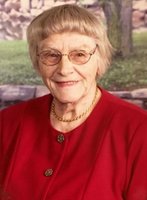 Joy Elaine York
Joy Elaine York was born March 9, 1926 in Enid, Oklahoma to Willard E. and Rosa M. (Brainard) Anglin. She passed from this life Friday, March 15, 2019 in Tulsa at the age of 93.
She began her education in Turkey Creek and Lahoma schools, completed high school and graduated from the Enid Business School. She married Joseph Eugene York when she turned 18 in her family's yard. They moved to Carmen, OK, then Turley, OK and finally to Tulsa, OK where they made their home and family. Confirmed in the Christian faith in 1940 at Trinity Lutheran Church, Joy's faith played a large role in her life. She was members of Our Savior Lutheran Church Wisconsin Synod, Mount Olive Lutheran Church Wisconsin Synod and then Christ The King Lutheran Church Wisconsin Synod.
She was preceded in death by her husband of 57 years, Joseph E. York in 2002 and is survived by her children, Charlotte Meier, Elaine Edens, Patricia Fritzler and Paul York; her brother, Elmer Anglin; her sister, Ila Bond; numerous grandchildren and great grandchildren and several cousins.
The family will receive friends from 5-7:00 p.m. Thursday at Ninde Brookside Funeral Home. A funeral service will be held 11:00 a.m. Friday at Christ The King Lutheran Church located at 9223 E. 95th Court, Tulsa, OK.
Ninde Brookside, 918.742.5556, ninde.com