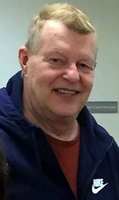 Steven Thomas Coons
Steven Thomas Coons was born in Chicago, IL on August 2, 1949 to Uzal & Erma (Hansen) Coons and passed from this life on April 21, 2019 at the age of 69.
Steve was an Eagle Scout and attended the University of Tulsa on a basketball scholarship. He graduated with a Bachelor's degree and was a member of Kappa Alpha Fraternity. Steve married Sharon Simmons Millspaugh on March 15, 1985. They were inseparable and shared a devoted love, like no other. An avid fisherman Steve was proud of his "Oklahoma Lifetime Hunting and Fishing License". He and Sharon spent weekends exploring lakes, parks and all points of interest in the state of Oklahoma. Steve was also very passionate about teaching. He cared about the welfare of children; especially his 3rd grade class at Mark Twain Elementary where he was teacher of the year. Steve was quick-witted and kind. He was "a believer" and a devout promoter of "the power of positive thinking" every single day. He will be greatly missed.
Steven was preceded in death by his parents and was survived by his wife; his sons and daughter-in-laws, Josh & Kari Coons and Brandon & Cheri Coons; his brother, Dave & Kathy Coons; and his sisters-in-law and brothers-in-law, Cherry & Norm Fisher, Jan & Warren Varner and Jeanine Myers; his grandchildren, Jackson, Judson, Parker and Paxton; his nephew, Dave Coons, Jr.; his cousin, Ron Dresser; and loyal friends Sandie and Buzz Busby.
Private family services. In lieu of flowers the family suggests donations be made in Steven's honor to the Mental Health Association in Tulsa, 5330 E. 31st Street, Suite 1000, Tulsa, OK 74135.
Ninde Brookside, 918.742.5556, ninde.com