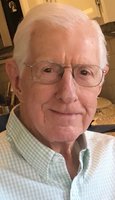 William Wynne "Bill" Allen
On May 6th, 2019 while surrounded by his loving family, William Wynne "Bill" Allen of Tulsa, OK, went home to be with the Lord.
Born on Feb. 8, 1928 in Birmingham, AL, Bill was the only son of George Walter and Mamie Florence (Lee) Allen. Bill grew up there and at the age of 17, met his lifetime love, Doris Riggan (14 years old at the time), at a church youth group. He would graduate from Ensley High School in 1946 and then serve in the U.S. Army in Japan, during the Korean War. Doris and Bill married in 1951. He used the GI Bill to attend the University of Alabama, where Doris was also enrolled. He studied radio and television and was a disc jockey for a local station during college. He also was member of Kappa Sigma Social Fraternity.
After earning his undergraduate degree and Juris Doctor degree from the Univ. of Alabama, Bill was hired by Shell Oil Company. He was employed as a landman/attorney and was sent to Jackson, MS. In 1960, Bill and Doris were re-located to Metairie, LA where the family would establish deep roots and raise their two children, Melinda Lee Carignan (Colonel, USAF Retired, Colorado Springs, CO) and Jeffrey D. Allen (Jenks, OK). As a successful and well-respected businessman, Bill received the Key to the City of New Orleans.
In 1972, LVO Corporation hired Bill and transferred the family to Tulsa, OK. In the mid 1970's he would take his talents to a smaller, locally owned company (Southport Exploration), where he would develop his considerable skills as a negotiator and deal maker. In 1979, he co-founded Essex Exploration, a very successful independent oil and gas exploration company. After selling Essex in 1987 and retiring, he continued to be active in numerous local ventures, including Quinn Chrysler, Ricoh Copiers and Soccer City. In 2016, Bill lost Doris, his beautiful and loving wife of 65 years.
Bill was a master chef who loved cooking for friends and family. He traveled the world and was active in church his entire life. Nothing gave him greater joy than attending the myriad of school and sporting events, in which his much beloved grandchildren participated. The positive influence that "Papa" had on his grandchildren is immeasurable. He was also happy to have spent quality time with his 3 perfect great-grandchildren and his 2 sweet Maltese "babies." He was absolutely adored by his entire family.
For every single day of his 91 years of life, Bill maintained a quick-wit, impeccable sense of style, a voracious appetite for reading and a keen business acumen. He was the king of crossword puzzles and possessed an unfair advantage in any type of trivia game.
However, it is his honest generosity and kindness to anyone he came in contact with that will forever be his legacy.
He was preceded in death by his parents; his wife, Doris R. Allen and his daughter-in-law, Julia R. Allen. Bill is survived by: his son, Jeffrey D. Allen of Jenks, OK; his daughter, Melinda L. Carignan of Colorado Springs, CO; grandson, Taylor R. Allen and his wife, Lauryn of Bixby, OK; great-granddaughters, Jo E. Allen and Parker E. Allen; granddaughter, Rebecca A. Williams and husband, Matthew, of Tulsa, OK and great-grandson, Lincoln J. Williams.
A memorial service will be held at Harvard Ave. Christian Church on May 16th at 11:00 a.m. In lieu of flowers, donations may be made to the American Cancer Society.