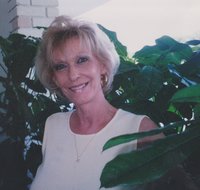 George Anna Sample
George Anna Sample was born on May 13, 1937 and departed this life on May 23, 2019. She was born, the youngest of six children, to George M. Dunham and Anna Piercy Dunham. She grew up in the Carbondale neighborhood and was a proud graduate of Daniel Webster High School, class of 1955. After graduation she attended Draughon School of Business.
While attending school, she was introduced, by her brother Joe Dunham, to his fellow Tulsa Police Officer, friend and partner, Jess Sample. They were married in 1956 and in 1957, to their complete shock, twin daughters were born. One was expected, the other one decided to hide until the day of their birth. Mom quickly rebounded from her surprise and became a devoted, loving mother. She was also a talented decorator who loved making a beautiful home for her family. In 1972, when George Anna's beloved brother, Joe, was suddenly killed in a plane crash, she and Jess worked together to complete his more than 50 new home contracts, successfully leaving a lasting legacy for Joseph Dunham Construction Company. George Anna and Jess were married until his death in 1976, at which time she continued his home building business, Jess Sample Construction for several years.
In 1983, George Anna married Butch Foust and became a combined family of seven children. Athough they later divorced, they remained best friends who spoke daily and enjoyed their dates to the casino.
In 2012, much to her delight, she began a new role as great grandmother to Liam Patrick! She loved nothing more than being his Gigi and babysitting became a top priority.
George Anna was predeceased by her parents, brothers, Joe, Jim and Scotty, sister Evelynn Dodd and niece Sheron Stroud.
George Anna is survived by her loving daughters, Sharen (Chuck) Stultz and Karen Spurgeon, granddaughter Kacy Spurgeon and great grandson Liam Patrick Spurgeon, sister Betty Lewis along with many nieces and nephews, that she loved as her own. They all considered her the matriarch of our family. She kept up with all "the kids" with trusty phone and dog-eared address book
Mom had a truly unique, fun and hilarious spirit. All of us will cherish her memory and the wonderful times we shared.
We Love you Momma, Aunt Georgie, Grandma and Gigi, you will be missed. Give our love to the gang!!
Reverend Monsignor Gier will officiate the memorial service to be held 2:00PM Wednesday, May 29th, 2019 at Ninde Brookside Chapel, 3841 S. Peoria Avenue, Tulsa, Oklahoma.