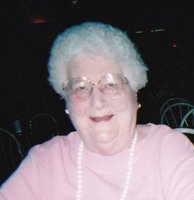 Florence Lucile Clare
Florence Lucile (Davis) Clare was born on October 28, 1924 in Las Animas, CO to Charles and Mary Ethel (Avis) Davis. Florence went to Glory on Friday, August 9, 2019 at the age of 94.
Florence was a minister's wife and a loving Christian mother. She was an avid Bible reader and prayer warrior. She was a gracious hostess and opened her heart everyone.
She was preceded in death by her parents, 3 brothers and 2 sisters and her husband, Rev. James Walter Clare in 1998. She is survived by her children: James O. Clare of Tulsa, OK, Daniel D. Clare of Glenpool, OK, Janet Sue Cronkhite of Morongo Valley, CA and David Jonathan Clare of El Paso, TX; 13 grandchildren: James O. Clare II, Jennifer D. Stair, Rachel B. Westberg, Danny E. Clare, Stacy Jo Djahedian, Ben Cronkhite, Erick Cronkhite, Michael Clare, Aneta Boney, Kevin Boney, Timothy Boney (deceased), Rhonda Boney and Kamichia Boney; 20 great-grandkids and 1 great-great granddaughter. She was a loving aunt to many nieces and nephews.
Florence left behind an insightful legacy. She was a faithful servant of Christ. Her greatest desire is to see all her loved ones again in Heaven. "For whoever shall call upon the name of the Lord shall be saved". Romans 10:13.
Graveside service 11:00 A.M. Wednesday Green Acres Cemetery, Skiatook, OK.