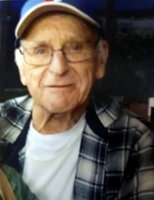 Tom Tuttle
Charles "Tom" Tuttle was born on August 26, 1934, in Tulsa, Oklahoma, the son of Clarence and Imogene Tuttle. He passed peacefully from this life on Saturday, September 7, 2019, and is celebrating his homecoming with our heavenly Father and those that preceded him. Tom is survived by his daughters, Carla Juby and Joyce Hollerbach, his son, Tommy Tuttle, Jr., his brother Merle Martindale, seven grandchildren, many great grandchildren, and friends. Tom was preceded in death by his parents, wife, Joyce Tuttle, sons, Hobie and Bruce Tuttle, and great granddaughter Aiyana.
Mr. T or Po Tom as he was known, was a hard worker. He was a man with a big heart who helped a lot of people in times of need. If you were blessed to be counted as a friend, he was always there for you. Tom never met a stranger and he loved to visit with people wherever he went. He was a true friend, Husband, awesome Dad and Grandpa, and he will be missed greatly.
Tom will lie in state 10-8 p.m. Tuesday, September 10 at the Ninde Brookside Funeral Home with family receiving friends from 5-7 p.m. A funeral will be held 10:00 a.m. Wednesday, September 11 at the Memorial Park Cemetery Chapel.
Ninde Brookside, 918-742-5556, www.ninde.com