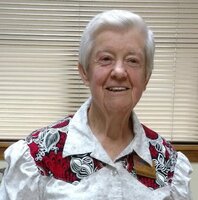 Barbara Eileen Low
Barbara "Eileen" Low was born on September 23, 1934 in Arkansas City, KS to Gordon James Buckle, Sr. and Barbara Lucile (Shaver) Buckle. Eileen passed from this life on Tuesday, September 6, 2022 at her home in Owasso, OK surrounded by family, at the age of 87.
Eileen was preceded in death by her brother Gordon Buckle, Jr., husband Donald Foster, son Kenneth Martin, grandson Anthony Scott and great-granddaughter Madison Ann Low.
She is survived by her children, Darrell Low (Terri), Mona Smith (Ed), Donna Schulze (Bryan) and Barbara Low. Her grandchildren, John Kenneth, Robert Foster, Christopher Edmon (Sarah) and Brittney Lee Low; her great-grandchildren, Jacob Edmon, Dalton Lee & Lily Madison Low. Eileen also leaves behind numerous cousins, nieces, nephews & friends.
Eileen grew up, and graduated High School in Oklahoma City, OK. In 1952 she attended Oklahoma A & M College (now Oklahoma State University) where she graduated, 05/27/1956, with a Bachelor of Science degree in Nutritional Science (Dietetics). On 05/28/1956, Eileen married the love of her life Donald Low. Over the next 8 yrs. Eileen had 5 children while settling down in Tulsa, OK. This Super Woman conquered the balancing act of full-time mother, wife, school volunteer & self-employed dietitian. She excelled in planning, organization & management skills.
As a career woman, Eileen spent 35+ years working as a dietitian in various nursing centers and taught dietetics in Tulsa and surrounding areas. For 25 years, she also found time to volunteer at schools where her children attended. Eileen devoted herself to her faith as a Christian Scientist and was a longtime member of the Sixth Church of Christ, Scientist in Tulsa.
Eileen loved to read, travel, play cards, garden, mow lawns & swim. Her pride & joy was caring for, and showing off her Koi Pond. Square Dancing was a huge part of Eileen's life. As a lifetime member of "Speck-Taculars" and "Single Squares", Eileen will always be known for her generosity in quality time spent with those she loved, her outpouring of affection towards family and friends, and her special ability to celebrate each moment to the fullest.
Family will receive friends 2-4PM Sunday at the Ninde Brookside Funeral Home. Funeral service to be held on Monday, September 12, 2022 at 10:00 AM at Ninde Brookside Chapel in Tulsa, Oklahoma. Interment 2:00 P.M. Monday Fairlawn Cemetery, Stillwater, OK.
In lieu of flowers, memorial gifts can be made to:
· (20-84850) Donald F & Barbara Eileen Low Scholarship at Oklahoma State University. Click here for online donations: https://secure.osugiving.com/s/giving?dsgt=20-84850.
· Northeast Oklahoma Square Dance Association (NEOSDA), 8310 E. 15th Street, Tulsa, OK 74112.