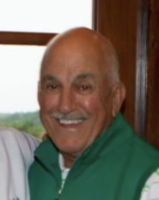 Tom "Tom" Russell
Thomas Ray Russell, beloved son, brother and husband, was born July 8, 1943 in Fort Smith, AR to Lawrence Edward & Gladys Aline (Lawson) Russell and passed from this life September 10, 2022 at the age of 79.
Tom's childhood stories included adventures from El Paso, Phoenix and the ever famous Talihina, Oklahoma. After college, Tom moved to Tulsa where he worked as a frame carpenter, then came in from the sun to sell condenser tubing to the heat exchange industry. Tom and his business partner Jim Hall started their own company in 1983 and experienced great success over the course of the following ten years. He retired in 1998 and played golf on everyday that ended in "y". Known for throwing his clubs, golf partners quickly learned which direction to run. In 2007, Tom was given an opportunity to participate in the development of The Patriot Golf Club. The Patriot quickly became a personal passion and he accepted the mission to make The Patriot a premier golf course.
Preceded in death by his parents Tom is survived by his wife, Rhonda Russell; his loyal companions, Boon and JoJo; his brothers, Eddy Russell of Brownsville, Texas and Larry Russell of Tulsa, Oklahoma; Stefanie Birkes and her son, Jackson Birkes.
Ninde Brookside, 918-742-5556.