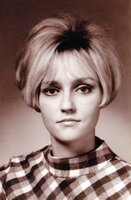 Linda K. Roderick
Linda Kay Roderick passed from this life September 14, 2022, at her home surrounded by her loving family. Linda was born in Tulsa, Oklahoma, on April 20, 1950, to Billy Gene Bond and Bertie Marie Overton Bond.
Linda graduated from Tulsa Hale and attended LSU midlife to earn her MSSW. She enjoyed fishing & painting, was an ambassador for the Tulsa Opera Club and a diehard football fan. Her passion for planting flowers and sharing beauty in her yard earned her a distinguished Master Gardener award. After every phone call, she never said "bye", she said "bye for now".
Linda is survived by her wife, Boots; children, Grant Duck of Dallas, TX, Casey and Stephen Garcia of Austin, TX; brother, Jeffrey Bond of Vienna, VA and grandchildren Sol and Flora Garcia.
Ashes will be scattered by the immediate family.