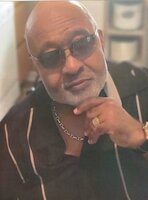 Gwendale Zachry
Gwendale Zachry was born September 6, 1957 in Wichita, KS to Carl Dean Zachry and Everlena Louvenya (Pannell) Ransom and passed from this life on September 15, 2022 at the age of 65.
Gwendale worked for the United States Postal Service for 15 years and was looking forward to retirement. He enjoyed University of Oklahoma football games, old school cars and western movies. He was a true force in life and too cool for school.
Gwendale is preceded in death by his father, Lester Ransom and his sister, Carlena. He is survived by his parents; his wife, Ollie Mae (Powell) Zachry; his brother, Carl Junior; his children, Michael, Mary, Wendy, Christy and Tyrone; his grandchildren, Marquis, Felicia, Aelicia, Donte, Jamil, Tyler, Jasmine, Maurice, Maliiq and Miranda; and a host of great grandchildren, extended family and friends.
Gwendale will lie in state from 10:00 a.m. to 8:00 p.m. on Thursday, September 29 with family receiving friends from 5-7 p.m. at the Ninde Brookside Chapel. His funeral will be held 11:00 a.m. Friday, September 30 at World Won For Christ, 2121 N. Harvard Avenue and laid to rest at Green Acres Memorial Gardens following.
Ninde Brookside, 918-742-5556, www.ninde.com