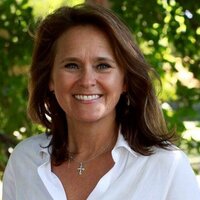 Laura Cline Lehman
Surrounded by her loved ones, Laura Cline Lehman, left this world a kinder place on September 30, 2022, at the age of 55. She will be remembered for her grace, determination, and fearless­ness, with every challenge she faced; and for her living faith and gratitude to family and friends who walked this journey hand in hand with her.
A native Tulsan, Laura was born May 31, 1967, and would go on to touch many hearts throughout her life. So close in age, she and her brother would be childhood playmates and friends for life. As a student at Edison High School, she would be voted both Homecoming Queen and Miss Edison. After only three dates, she knew she had met the love of her life, as did he followed by their wedding six months later. Laura is survived by her loving family: husband of 31 years, Donnie Lehman; son, Mason Lehman; daughter, Josie, and son-in-law, Mike Concannon; daughter, Claire Lehman; daughter, Kate Lehman; mother, Dianne Schroedter; brother, Jay Cline, and sister-in-law, Janice; nieces, Mariel and Olivia Cline; and constant companions, Lucy and FiFi. She is preceded in life by her father, Joseph Cline, and stepfather, Edward Schroedter.
Laura attended the Univer­sity of Kansas where she was a member of Pi Beta Phi so­rority. Upon graduation, she taught Second Grade at Lee Elementary School in Tulsa, and shortly found her most meaningful vocation, rais­ing and nurturing her four children. During many sum­mers, Laura volunteered at Kanakuk Kamp doing everything from driving the camp van to bandaging scrapes. This was also a way to share the camp experience with her kids as they attended KK. After the nest emptied, she worked at Lululemon for many years and later co-owned Ran­cho Flores. She enthusiastically served at Life.Church, participated in BSF and shared fellowship with various small groups and yoga friends.
A Celebration of Laura's Life will be held on Friday, October 7, 2:00 pm, at Life.Church Jenks, 890 West 81st Street. In lieu of flowers, contributions to John 3:16 Mission, 506 North Cheyenne Avenue, Tulsa OK 74103, will be greatly appreciated. Well done, good and faithful servant! (Matthew 25:23)
Ninde Funeral & Cremation (918) 742-5556 ninde.com