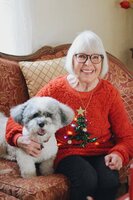 Terry Ann Patterson
Terry Ann Patterson passed away on October 11, 2022, in the comfort of her home. Terry Ann Patterson was born on March 29, 1947, in Junction City, Kansas to Wayne and Virginia Patterson. She was the eldest of four siblings; big sister to her brothers Chuck, Russ, and Ted. She treasured lasting memories of trips to Arkansas and Kansas for family reunions. After working most of her adult life in Tulsa, Terry retired to Claremore around 20 years ago.
Terry graduated from Oklahoma State University, and later in life got her United Methodist Local Pastor's License and worked in Children's ministry at First United Methodist Church of Tulsa. This was one of her greatest joys, and a vocational path that her daughter, Susan, and granddaughter, Emma, also followed in.
Terry worked hard and sacrificed to raise her daughter, Susan, and son, Allen, as a single mother. Susan married Roger, and Terry gained a wonderful son-in law. She later became a grandmother to Liz and Emma, who were the lights of her life. In addition to spending time with her granddaughters, Terry loved painting and gardening; her home once being featured in the Claremore Garden tour. Terry's artwork and skillful green thumb left family and friends in awe. Terry's love for the Lord poured over into every aspect of her life. She was strong in faith, active in prayer, and always ready for fellowship. She cherished her pilgrimage to Israel in early 2016.
She is survived by her daughter, Susan, son-in-law, Roger, granddaughters Liz and Emma, brother, Chuck and his wife, Mary, brother, Russ and his wife, Paula, brother, Ted and his wife, Melinda, nieces Aubrey, Lindsay, Lesley, and Alexis, and nephews, Michael and Noble, as well as many beloved aunts, uncles, and cousins.
Terry is preceded in death by her son, Allen, her parents, Wayne and Virginia, and her nephew, Geoff.
In lieu of flowers, the family has requested contributions be made in Terry's memory to the Childrens Ministry of Mosaic Church, 3131 NW 50th St, Oklahoma City, OK 73112
Celebration of Life 11:00 a.m. Saturday, October 15 at University United Methodist Church, 2915 E. 5th Street, Tulsa, OK.
Ninde Brookside, 918-742-5556, www.ninde.com