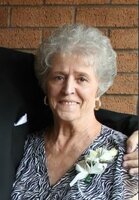 Nelda Jean Giddens
Nelda Jean (Bean) Giddens was born August 17, 1939 in Lawton, OK to Eschol Edward Bean and Fannie Maude (Pilgrim) Bean and passed from this life on October 28, 2022 at the age of 83.
Nelda retired after 20 years from TG&Y and joined her husband in the flower shop where she became the delivery driver. She began to learn floral design from her husband who was a talented designer and teacher. When he died she took over the business and kept it open until July of this year when declining health forced her to close the business. In her spare time she enjoyed sewing and loved sitting outside enjoying the peace of her backyard.
Nelda is preceded in death by her parents; her husband, Donnie Lee Giddens; her sister, Ernestine Lathrop; and her brother, Loy Bean. She is survived by her daughter, Cynthia Lee LaRue; her son and daughter-in-law, Robert Bruce & Becky Giddens; her grandchildren & spouses, Steven & Amanda Giddens, Matthew & Tiffany LaRue, Adam Osberghaus and Courtney & Adam McMahon; and her great grandchildren, Savannah McMahon and Ryan Giddens.
Nelda will lie in state Wednesday, November 2, from 10:00 a.m. to 8:00 p.m. with family receiving friends from 5-7 p.m. at the Ninde Brookside Funeral Home. Her funeral will be held 10:00 a.m. Thursday, November 3, at the Memorial Park Cemetery Chapel.
Ninde Brookside, 918-742-5556, www.ninde.com