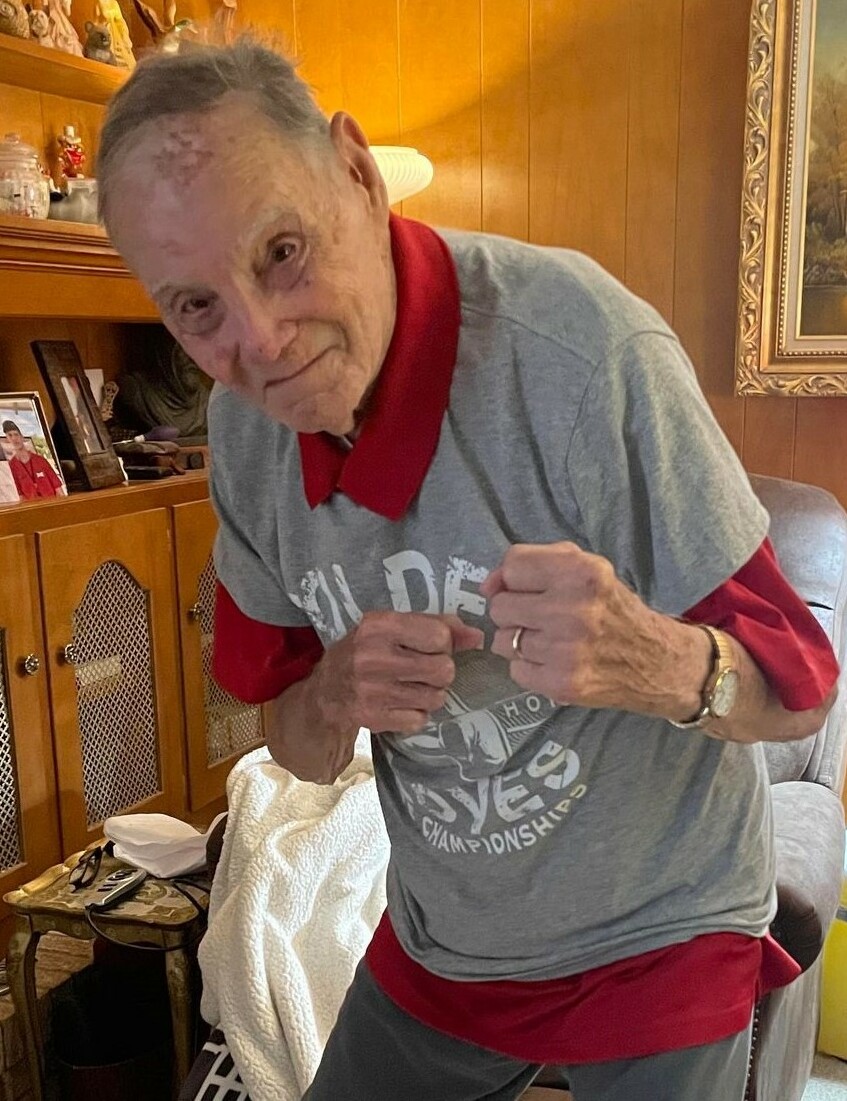 Billy Joe Goforth
Billy Joe Goforth, age 93, Tulsa, OK, passed away on October 27, 2022 in his home surrounded by loved ones. Bill was preceded in death by his mother Helen Washburn Goforth, his father William Clint Goforth, and his sisters Gwinn Johnson, Ruth Walley, and Janett Bratcher, daughter-in-law Kandi Goforth and great-granddaughter Oriana Butters. He is survived by his wife Helen Margaret Clary Goforth, brother Allen Goforth, sons Andrew Goforth (Tammy), Scott Goforth, and daughter Joyce Hanewinkel (David), grandchildren, Callie Phillips, Marni Jacobs (Tommy), Terra Master (Hans), Andrew Goforth II, Tobi Barbre, Ryan Nunes (Brandi), Alex Nunes, Eric Roe (Jenny), Lacy Ruth (Brandon), Sarah Bennefield, Doug Hanewinkel, and Blake Hanewinkel, great grandchildren, Max Phillips, Cabreil Roe, Trenton Roe, Jaxon Butters, Isabella Ruth, Rhett Ruth, Aden Jacobs, Claire Jacobs, Randi Master, Brayzon Nunes, Brayleigh Nunes, Raegan Nunes, and Isabella Nunes.
Bill Goforth was born October 10, 1929. His family, moved to Oklahoma City, during the summer, just a few months shy of his 15th birthday. He met 13-year-old Helen Clary soon after. He lived across the street from her cousin, Ronald Johnson, who became his best friend. Ronald lived next door to Helen, and he introduced her to Billy.
Billy wouldn't notice Helen for almost 2 years. But he did, at a Church Valentine's party held at Ronald's house. He got very competitive during a game of Wink-um. Helen was certain he would walk her home until Ronald mouthed. "Are ya gonna walk Helen home Bil—ly?" The shy Billy responded with a resounding "No." They began dating soon after, and were married, 2 years later, on September 25, 1948.
Bill joined the Southside Boxing club in 1945. His uncle Louie Goforth was co-coach alongside Chief Parris. Bill started in the Golden Gloves Bantamweight class and moved up to Featherweight. He won 60 of 66 fights, losing only 1 by knock-out. He continued boxing until just before he married Helen.
A hard worker, he had numerous odd-jobs. He bussed tables in his aunt's restaurant, and plucked chickens at the family poultry house. After marrying Helen, he went to work for his father-in-law, Herman Clary, driving a wrecker on the night shift.
In 1951 he celebrated the birth of his son, Andy. 1953 brought the joyous arrival of his 2nd son Scotty. A baby girl, Joyce, made her jubilant entry in 1956.
Bill moved on to work for an auto body shop in Oklahoma City. He then moved the family to Anaheim CA, where he sold life insurance. He brought the family back to Oklahoma City and remained in the insurance business. Eventually, hired by State Farm Insurance, he transferred to Tulsa, OK. Over a span of 30 years, he worked his way up from a claims adjuster to the superintendent of the claims department.
After retiring, Bill and Helen traveled, via a motor home, all over the US. When he tired of driving, He and Helen became snowbirds in Harlingen, TX.
After 74 years of marriage and a lifetime of exploits, Bill Goforth quietly slipped from this realm into his final adventure.