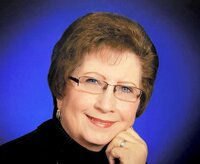 Judy Tanner
Judith Adele "Judy" Tanner was born on October 21, 1942 in Clinton, IN to William Collie Ervin and Grace Rozella (Snodgrass) Ervin. Judy passed from this life surrounded by her loving family on Friday, November 4, 2022 at the age of 80.
Judy was a woman of faith. It was written that "If humility has been the habit of her soul, solitude has been the habit of her spirit". She faithfully read her Bible and many books to study and think and pray.
Judy's devotion to God began in 1956 with conversion at a Methodist church in Salem, IL where she established herself in the Wesleyan doctrine she loved. Two years later she made a deeper decision to serve the Lord all her life. She was a very gifted vocalist that blessed countless people. While in high school she and her sister Cathy had their own radio program singing a variety of music.
After graduation Judy married a pastor-evangelist and attended Texas Tech before traveling as a vocalist with her husband. Paralyzed with a broken back from a plane accident in 1964 her physician wrote, "This was a miracle of God," as she progressed toward a full recovery.
In 1974 Judy grieved from a divorce. With the Lord and her three children at her side, she moved to Tulsa and to First Methodist Church. With encouragement from Bill and Harriet Thomas in Bible study and counseling prayer and Don and Ann Ford's music and friendship, she moved to an unexpected calling to become "her brother's keeper".
In 1979 she married Herb Tanner. In 1983 she was asked to join the staff of First Methodist Church. The wisdom she had earned was now to benefit the world for Christ. Retiring in 2008 she had faithfully served as the Pastoral Care Coordinator working side by side with the Reverend Wishard Lemons and Reverend Charles Pucket. She also was the Administrative Assistant for the Healing/Counseling Ministries. Part of this information came from an article written by Liz. Decker.
Judy was preceded in death by her parents and a sister, Cathy Spain. She is survived by her husband, Herb Tanner of the home; her children, Shelly and Phillip Sutterfield of Broken Arrow, OK, Mat & Vicki Donaldson of Tulsa, OK, Kathy & Darren Jones, of Owasso, OK and Ryan and Jenna Tanner of Broken Arrow, OK; her brother, William "Bill" Ervin, Jr. of Cantonment, FL; 12 grandchildren and 6 great grandchildren.
Service Thursday, November 10, 2022 & 1:30 pm held at First Methodist Church, with interment at Floral Haven Memorial Gardens.
In lieu of flowers donations may be made to Congregational Ministries or Music Ministry of First Methodist Church Tulsa.