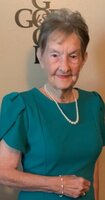 Dorothy Jeanette Staires
Dorothy Jeanette (Nelson) Staires was born September 1, 1933 in Tulsa, OK to Kenneth Richard Nelson and Garnett (Howard) Nelson and passed from this life, surrounded by her family, on November 2, 2022 at the age of 89.
Dorothy loved to travel, anytime, anywhere. She also loved to read, garden and be outdoors. The highlight of her day was tending to the horses, Sophie & Liz. Each day would begin with her watering them and feeding them the carrots she bought in bulk for just that purpose. When not enjoying things outdoors she would squirrel herself away with her books; especially the Harlequin romances she so enjoyed. Never one to shrink from life or its challenges you never had to guess where she stood or what she thought. Her brand of life will be greatly missed.
Dorothy is preceded in death by her parents; her sons, Larry Joe Staires and Roy Wayne Staires. She is survived by her children and their spouses, Gary & Melva Staires, Glenna & Rodger Scott, Ricky & Julia Staires, Terry & Paula Staires and Sharon & Robert Queen; her brothers, Richard Nelson and Kenneth Wayne Nelson and his wife Donna; her sister and brother-in-law, Carol & Gary Ferguson; 20 grandchildren; and 35 great grandchildren.
Dorothy will lie in state Monday, November 7, from 10:00 a.m. to 8:00 p.m. with family receiving friends from 5-7 p.m. and her funeral will be held 10:00 a.m. Tuesday, November 8, both at the Ninde Brookside Funeral Home and Chapel.
Ninde Brookside, 918-742-5556, www.ninde.com