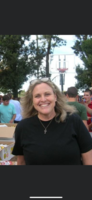 Mary Kathleen Fitzpatrick
Mary Kathleen Fitzpatrick was born on January 22, 1959, in Tulsa, OK. She passed away on Thursday, November 3, 2022, at her home in Tulsa, OK, at the age of 63. 
Mary graduated from Monte Cassino High School in 1977. She attended the University of Tulsa with a major in education, and while in college, was initiated into Kappa Kappa Gamma sorority. Mary proudly taught at Immaculate Conception, Marquette, and Monte Cassino middle schools. She was also a championship winning coach in both basketball and tennis. 
She was preceded in death by her father, John Raymond Fitzpatrick and mother, Frances Wanda Fitzpatrick. Mary is survived by her brothers, John Douglas Fitzpatrick and wife Robbie, Charles Wheatley Fitzpatrick, John Raymond Fitzpatrick, II and wife Luanne.
Additionally, she was the proud aunt of Shannon Kathleen Fitzpatrick, Michael Sean Fitzpatrick, Erin Fitzpatrick Baumgarten, Christopher Scott Fitzpatrick, Mary Kathleen "Kate" Fitzpatrick, Charles Wheatley "Casey" Fitzpatrick, Kelli Fitzpatrick Johnson and Ashlee Fitzpatrick Glover, as well as great aunt of Emma Elizabeth Baumgarten, Anne Margaret Baumgarten, Fiona Rose Fitzpatrick, Appollonia "Polly" Jane Fitzpatrick, Ellison James Fitzpatrick, Billie Susan Fitzpatrick, Calvin Michael Bailey, Samuel Charles Bailey and Lilianne Raye Johnson.
Services will be held on Saturday, December 10th at 1:30 pm at First Presbyterian Church of Tulsa.