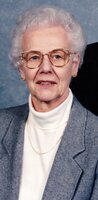 Lulu Mae Pendleton
Lulu May (Meyers) Pendleton was born July 14, 1920 in Rock Rapids, IA to John & Lena (Apple) Meyer and passed from this life on November 14, 2022 at the age of 102.
Over the course of her 102 years, Lulu supported her husband and raised their children who brought grandchildren, great grandchildren and great great grandchildren into her loving arms. She loved family gatherings and brought her vast experience, acceptance and support to all her family. She enjoyed quilting, knitting and crocheting. She was also a long time member of Cedar Ridge Christian Church and her faith was important to her. The impact she made will surpass the next century as well as the last.
Lulu is preceded in death by her parents; her husband of 66 years, William H. Pendleton; her son, Doug Pendleton; and her siblings. She is survived by her sons and daughters-in-law, Robert & Cheryl Pendleton, Richard & Kaye Pendleton and Sandy Pendleton; 5 grandchildren; 11 great grandchildren; and 2 great great grandchildren.
Lulu will lie in state from 10:00 a.m. to 8:00 p.m. Monday, November 21, and her funeral will be held 2:00 p.m. Tuesday, November 22, both at the Ninde Brookside Funeral Home and Chapel. She will be laid to rest at Memorial Park Cemetery.
Ninde Brookside, 918-742-5556, www.ninde.com