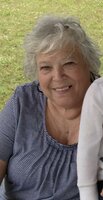 Karolyn Kaye Miller
Karolyn Kaye Miller was born on October 15, 1944 in Shawnee, OK to Loren W. Griffith and Edna Pearl (Bollinger) Griffith. Karolyn passed from this life on Tuesday, November 29, 2022 at the age of 78.
She was an early childhood development teacher in the Tulsa Public School system. She was preceded in death by her husband Franklin Delano Miller in 1989. She is survived by her children, Griff Miller of Sand Springs, Anjie Calvin and Amy Miller both of Tulsa; a brother Frank Griffith of Tulsa and 3 grandchildren and 4 great grandchildren.
Graveside service 2:00 P.M. Tuesday at Memorial Park Cemetery.