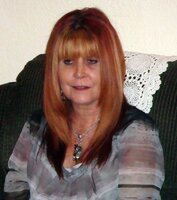 Cheryl Ann Pendleton
Cheryl Ann (Clark) Pendleton was born October 23, 1951 in Tulsa, OK to Ernest Dean Clark and Jacqueline Lois (Cloud) Clark and passed from this life on December 21, 2022 at the age of 71.
Cheryl loved antique shopping, books, clothes and jewelry. Her children and grand children were the joy of her live. She believed God had an answer for most everything if you just listened. Cheryl loved Christmas and gathering with her family and friends, Cheryl had gone back to school and earned a CPHT, EMT, Life flight EMT, certified Wound Care Tech, and certified Nurse Aid certificates. Cancer and radiation treatments had made her life tough for the past 15 years but, she continued to try hard at everything she could do.
Cheryl is preceded in death by her parents and is survived by her husband, Robert Keith Pendleton; her children and their spouses, Jeremy Dean & Tonya Pendleton, Matthew Lee & Devon Pendleton and Melissa Ann & Bobby Shanks; her 8 grandchildren, Bree, Jace, Mia, Maddox, Maxon, Mosley, Mika, Cheyenne; and her 2 great grandchildren, Samuel and Parker.
Cheryl will lie in state from 10:00 a.m. to 8:00 p.m. Tuesday, December 27, and her funeral will be held 10:00 a.m. Wednesday, December 28, both at the Ninde Brookside Funeral Home and Chapel. A graveside service will be held 2:00 p.m. Wednesday, December 28 at Newkirk Cemetery, Newkirk, OK.