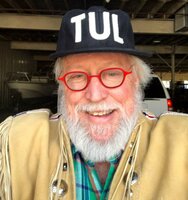 Michael Edgar Charles Sager
Michael Edgar Charles Sager, a pioneering real estate redeveloper and champion of many, passed away Thursday, January 12th. He was 76 years old.
Born in 1946 in Tulsa, OK — a city he later helped transform — Michael lived his life through a series of adventures that always made for an amazing story. His exploits ranged from semi-pro rodeo riding, speed boat racing in California, living on a sailboat with his wife Carol, time in Manhattan Beach with his mother Patricia, dancing in the Nutcracker Ballet, and running an antique company between London and Los Angeles.
He returned to Oklahoma in 1977 and, after years of horse racing at Sager Farms, opened KarMichael's, a trailblazing restaurant in downtown Tulsa. This kicked off more than 30 years of work spent transforming a forgotten part of the city into the thriving Blue Dome District we know today. While he owned many buildings, his largest contribution was his partnerships with independent thinkers to bring their visions to life. He helped build a community filled with personality, vibrancy, and uniqueness.
When not in Tulsa, Michael spent much of his time on Bainbridge Island, Washington where he always said the climate, forests, and beautiful Puget Sound gave him energy. He was in the process of planning a boat trip up the west coast with family and friends,
His fascinating stories will be carried on by his mother, Patricia Sager; wife, Carol Sager; son, Patrick Sager, daughter-in-law, Jen Zmrhal, and grandchildren Maeve and Beckett Sager; and brother, Mark Witt. The family would like to thank Cheri Chappell for her support.
"Thumbs Up".
In lieu of flowers the family invites you to recount your favorite story of Michael and join them for a celebration of his life from 1-3pm on Saturday, January 21st at the Gateway Event Center, 851 E Admiral Blvd, Tulsa, OK 74120.
Ninde Brookside, 918-742-5556, www.ninde.com