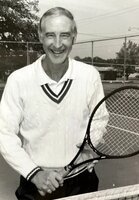 C.J. Hixson
Charles, C.J. Hixson, beloved husband, father and friend passed this life peacefully on Sunday, the 5th of February 2023. He had just celebrated his 90th birthday.
C.J. was born in Fort Smith, Arkansas and attended Fort Smith High School where he excelled in basketball and tennis leading the school to state championships in both basketball and tennis. It was his basketball talent that earned him a scholarship at Oklahoma A & M to play under the legendary Coach Hank Iba. He also played number 1 on the tennis team for four years. During his time at Oklahoma A & M he was instrumental in establishing the first chapter of Fellowship of Christian Athletes at the university.
After graduating from college C. J. married Barbara Brickey, a native of Fort Smith, whom he described as the love of his life and best friend. He joined the U.S. Army and they lived in Germany where he continued his tennis, competing for the Army across Europe.
After his military time he returned to Oklahoma and chose Tulsa as home to work and raise a family. C. J.'s life revolved around his faith, his family which included Barbara and two sons, Grant & Kent. He continued to find time to play competitive tennis earning him many honors in Arkansas, Oklahoma and Missouri throughout the next years. He often said it wasn't the honors he treasured but the wonderful friendships developed thru the sport.
After a career in the institutional food business, spanning several decades, he became a sales associate with Sun & Ski Sports, where he spent his later working years. He became a well known fixture there, known and loved by customers and fellow employees. C.J. was a deeply faithful man- active in his church and Sunday School where he built many long lasting friendships. He was also deeply involved in Bible Study Fellowship, an International Bible Study Organization where he was a Group Discussion Leader for twenty-seven years and spent several hours a week in preparation.
C.J. is survived by his wife of 67 years, Barbara Hixson; sons, Kent Hixson and Grant Hixson; daughter-in-law, Rebecca Hixson; and grandchildren, Johanna Hixson, Chip Hixson, Alix Hixson and Peter Hixson. The family would like to thank Irene Atim, who was C J's wonderful caregiver and friend the past three years.
Services will be held at 1:00 p.m. Wednesday, February 15 at Boston Avenue Methodist in the Rose Chapel. In lieu of flowers, contributions can be made to the following organizations: John 3:16 Mission at https://www.john316mission.org/ or Bible Study Fellowship at https://www.bsfinternational.org/
Ninde Brookside, 918-742-5556, www.ninde.com