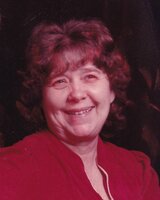 Evadene Rauch
Evadene Rauch was born on July 21, 1925 in Sand Springs, OK to Alvoris and Ida (Powers) Adams. Evadene passed from this life on Monday, February 20, 2023 at the age of 97.
Evadene met Ted Rauch in Tulsa, Oklahoma and they married on January 21, 1943. They had 6 children and eventually started a family business of selling Christmas trees and firewood. The business grew and developed. They named their business Rauch Brothers Land Clearing and Tree Service. It was a family owned and operated business. There was work for the adults down to the young children, who learned early on the importance of working and earning money. Evadene was the business secretary, bookkeeper, manager and laborer. She was a wife, Mother, grandmother and the staple to the business and all the children and grandchildren. She was an amazing woman who always helped others in time of need.
She was preceded in death by her parents; her husband, Theodore Rauch; son, Teddy Rauch; daughters, Arlene Jobe and Kathleen Johnson and grandchildren, Angela, Patrick and David Cartledge, Robert Milligan, Mark Jobe and 3 great grandchildren, Justin Gagliardo, Brandon Lee Owens and Hayden Zyler Owens. She is survived by her daughters, Nancy Cartledge of Sand Springs, OK, Linda Milligan of Skiatook, OK and Sally Alexander of Tulsa, OK; sisters, Alvoris Cochran and Bonnie Beesinger both of Sand Springs, OK; 17 grandchildren, 40 great-grandchildren and numerous great-great-grandchildren.