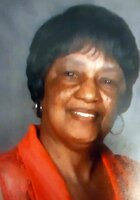 Donna Jean Rogers
Donna Jean Rogers was born August 3, 1945 in New Castle, PA to Tessie Lee & Ella Mae Rogers and passed from this life on March 6, 2023 at the age of 77.
Donna accepted Christ at a very early age. Donna was an extraordinary woman. Donna worked at nursing homes for a living and believed in honest and hard work. Donna loved to go to Bingo and spend time with family playing video and board games. Donna also loved playing dominoes and cards with friends. Donna is loved and cherished by all family and friends.
Donna is preceded in death by her parents; her sister, Mary Ann Rogers; and her brother, Charles Rogers. She is survived by her daughter, Tracy Robinson; her sons, Brian Rogers and Ronnie Rogers; 7 grandchildren, Gee, Adam, Dre, Annie, Chris, Deonte and Colby; and 5 great grandchildren.
Donna will lie in state from 10:00 a.m. to 8:00 p.m. Thursday, March 9, with family receiving friends from 5-7 p.m. and her funeral service will be held 10:00 a.m. Friday, March 10, both at Ninde Brookside Funeral Home and Chapel. She will be laid to rest in Fairfax Cemetery, Fairfax, OK.
Ninde Brookside, 918-742-5556.