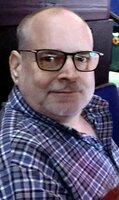 Dr. Byron "Buzz" Marr
Dr. Byron (Buzz) John Marr was born on June 22, 1963 in Tulsa Oklahoma to Dr. James Frank Marr and his wife Esther Loraine Baldwin Marr. He went home to the Lord on March 5, 2023, at the age of 59.
Buzz was a 1981 graduate of Tulsa Edison High School, a 1985 graduate of Northeastern State University at Tahlequah and a 1989 graduate of Oklahoma College of Osteopathic Medicine, now OSU Medical School in Tulsa. After medical school he did his internship in Mesquite, Texas, Radiology Residency in Mt. Clemons, Michigan and his Fellowship at M.D. Anderson Hospital in Houston, Texas. After practicing Invasive Radiology some years in Texas, he came back home to Tulsa and practiced in Tulsa and the surrounding areas and eventually the surrounding states, while keeping his home in Tulsa. He was always accompanied by his faithful companion, Elvis the goofy dog. He was a well-respected doctor in his field of practice who saved many lives.
Buzz was preceded in death by his father and is survived by many friends and family who love him dearly including his mother, Esther Marr, his sister & brother-in-law, Celia and Rick Springer, his nephew, Devin Springer and his wife Heather Borland, niece Kyra Johnson and her husband, Ryan and his great niece, Jemma Johnson whom he adored. He is also survived by his daughters, Kelsey Anne Marr and Grace Elizabeth Marr.
A private family celebration will be held. In lieu of flowers, the family suggests donations to the Alzheimer's Association, Oklahoma Alliance for Animals, or the local animal rescue of your choice.
Ninde Brookside, 918-742-5556.