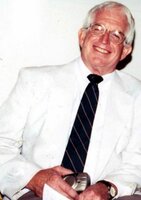 Steve William Boethin
Steve William Boethin passed away on March 10, 2023, after a short illness following a long battle with frontotemporal dementia. Steve was always smiling, always happy, always willing to help a friend in need. He loved many things, and he loved them with his whole heart: he LOVED his boys and his grandchildren; he loved to cook (chicken fry and taco salad were two crowd favorites); he loved to play pranks on people and laugh so loud; he loved to sing on stage at former churches such as Southern Hills Baptist (Tulsa), East Paris Baptist (Paris, TX) and Colonial Baptist (Wichita Falls, TX); he loved a good whiskey sour; he loved exploring new careers, with his two favorites being long haul truck driver and prison guard at a maximum security facility; he loved to dance; he loved to put on a good Hallmark movie and shed some tears; he loved to start (and probably not finish) projects around the house; he loved to help anyone, anywhere, at any time; and he loved the Lord. We have no doubt that Pops is up in Heaven right now dancing with Jesus!
Steve is survived by sons Matthew William Boethin (Jon Lewis), Britton Barker Boethin (Heather) and Tyler Merrifield Boethin, and grandchildren Charlotte Rose, Benjamin William and Lucille James. He is also survived by brother Barry Boethin (Suzie), sister Sharon Boethin, brother-in-law Jim Casper, and his niece Brooke Lee Boethin Swain (T.J.) and grand-nephew Jack.
Ninde Brookside, 918-742-5556.