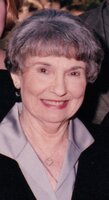 Ina Jane Roegels
Ina Jane Roegels was born on March 21, 1922 in Tulsa, OK to Nathaniel Briscoe Heywood and Beulah Genevra (Hickman) Heywood. Ina passed from this life on Thursday, April 27, 2023 at the age of 101.
Ina was preceded in death by her parents and her husband, Shelton Gregory "Casey" Roegels, and her great-grandson, Dylan Christopher Brown. She is survived by her daughter, Pamela Dose and a son, John Roegels both of Tulsa, OK and four grandchildren and seven great grandchildren.
Ina had a lifelong love of music and theatre. She was an accomplished pianist, vocalist and songwriter. She enjoyed performing and was also an avid writer and genealogist which led to membership in the Mayflower Society.
The family would like to thank the management and staff at Broken Arrow Nursing Home and Miller Hospice for their compassionate care and kindness during Ina Jane's final days.
Service will be Wednesday, May 3, 11:00 a.m. at St. John's Episcopal Church with interment to follow in Floral Haven Memorial Gardens.