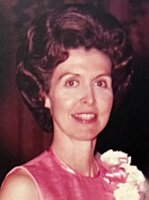 Darlyn Marcheta Felts
Darlyn Marcheta Felts, 95, of Tulsa, Oklahoma, passed away Sunday, April 23, 2023. Marcheta was born on Christmas day December 25, 1927 in Sand Springs, Oklahoma to Marion Kilby "Buddy" and Ola Files. She graduated at 16 years of age as valedictorian of her class at Sand Springs High School. She attended Oklahoma College for Women in Chickasha, Oklahoma for two years. At 20 years of age, she graduated with a Bachelor's degree in Music Education from the University of Tulsa, where she was a charter member and the first president of the Delta Gamma Sorority. Following graduation, she went to work for Sun Oil Company. In the fall of 1949, Marcheta met Ray Lester Felts, at the Tenth and Rockford Church of Christ. They were married on December 26, 1949. He was the love of her life. In the years that followed, they welcomed three beautiful children together. They were members at Brookside Church of Christ, where she taught Sunday school and Vacation Bible School. They were married for 67 years before Ray passed in 2017. She was one of the original members of the Ranch Acres Garden Club. Marcheta was an accomplished pianist and loved playing beautiful music for her family and friends.
Marcheta is survived by her children, Meredith Whyles and Brion Felts; five grandchildren, Megan Ragina, Melissa Weber, Danny Felts, Christian Felts, and Julee Felts; three great-grandchildren, Logan Hall, Connor Hall, and Olivia Weber; and her sister Marion Cravens. Marcheta was preceded in death by her husband Ray, her parents, and her son, Kyle. In lieu of flowers, the family asks that donations be made to Hope Harbor, PO Box 1047, Claremore, OK 74018, or www.hopeharborinc.org.
Marcheta's Celebration of Life will be held on Thursday May 11, 2023 at 2pm at Ninde Brookside Chapel, 3841 S. Peoria Ave in Tulsa. Public viewing Tuesday and Wednesday, May 9-10, 2023 at Ninde from 10:00 a.m. to 8:00 p.m. with family in attendance from 5:00 p.m. to 7:00 p.m. Reception following service at Stanleys Club Room, 3959 E. 31st Street.
Ninde Brookside, 918-742-5556.