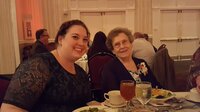 Elizabeth Anita "Betty" Chancellor
Elizabeth Anita "Betty" Chancellor was born on January 31, 1930 in Custer City, OK to Jacob and Kathryne (Wildermuth) Mirtz. Betty passed from this life on Thursday, May 11, 2023 at the age of 93.
Betty was a longtime member of Trinity Lutheran Church in Guymon, OK and a longtime faithful member of St. James Presbyterian Church in Jenks, OK.
Betty was preceded in death by her husband, Wyman Chancellor, grandson, Bryan Sullivan, brother, Raymond Mirtz, sister, Marie Vorderlandwehr, sister, Patricia Mirtz, and brother David Mirtz. She is survived by her sons & daughters-in-law, Rick and Debbie of Houston, TX, Royce and Sue of San Tan Valley, AZ and Larry and Renee of Jenks, OK; her brother, Rev. Benjamin Mirtz of Salina, KS; 8 grandchildren and 14 great-grandchildren.
A Memorial Service to the Witness of the Resurrection will be held Friday, June 9, 11:00 am at St. James Presbyterian Church, Jenks Oklahoma. There will be a graveside service on Saturday, June 10, 11:00 am, at Memorial Park Cemetery, Enid, Oklahoma
In lieu of flowers, donations may be made to Trinity Lutheran Church (Memorial Fund) 1212 N. Crumley Street, Guymon, OK 73942 or St. James Presbyterian Church (Backpack Ministry), 11970 S. Elm Street, Jenks, OK 74037