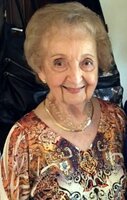 Mary Frances McBride
Mary Frances (Whitaker) McBride was born in Tulsa, OK on March 9, 1926 to Vern and Ollye Mae (Clayton) Whitaker and passed from this life May 14, 2023 at the age of 97. A proud life-long Tulsan she was preceded in death by the love-of-her-life, husband Jack of 39 years; and son Gary and her parents. She is survived by grandson, Dalton; great grandsons, Jackson and Gunnar; brother, Robert Whitaker (Cathy); nieces, Marjorie Lawrence (Ron Reese), Judith Boring (Mike); and nephews, Larry McBride, Daryl McBride and David Brothers. Mary Frances was an avid sports enthusiast who truly enjoyed her longtime bowling and bridge friendships.
Mary Frances will lie in state from 10:00 a.m. to 8:00 p.m. Wednesday, May 17, 2023 at the Ninde Brookside Funeral Home. Her graveside service will be held 2:00 p.m. Thursday, May 18, 2023 at Memorial Park Cemetery, Tulsa.
Ninde Brookside, 918-742-5556, www.ninde.com