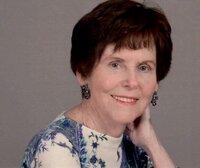 Betty Jean Mertens
Betty Jean Mertens was born on May 11, 1937 in Danbury, CT to Ernest Walther and Helen (Leonard) Walther. Betty passed from this life with her family by her side in Tulsa, OK, on Monday, May 15, 2023 at the age of 86.
Betty worked as a secretary at Davis and Geck in Danbury, CT after graduating from high school. She became a full time homemaker after marrying the love of her life, Fred Mertens, in June of 1962. Betty and Fred raised their only daughter, Lise, in the states of Massachusetts, New York, and Texas as Fred worked for Texaco Research. They eventually resided in Oklahoma to be near family. Betty was a loving wonderful mother. She loved to travel, cook and enjoyed serving as a Volunteer at St. Francis South Hospital. Her grandchildren were the light of her life.
She was preceded in death by her husband of 52 years, Frederick Paul Mertens. She is survived by her daughter, Lise Dean and son-in-law Jim of Broken Arrow, OK; grandchildren, Erin and Evan Dean, 2 sisters, Leota Rasmussen of Broken Arrow, OK and Julia Person of Danbury Connecticut; and niece Susan Person of Newtown, Connecticut.
Memorial service will be on Saturday, June 3, 11:00 a.m. at St. John's Episcopal Church. Interment will be at Wooster Cemetery, Danbury, Connecticut at a later date. In lieu of flowers donations may be made to: St. John's Episcopal Church.