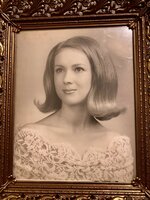 Sharon Ruth Coons
Sharon was born April 2, 1947 to Leo and Ruth Simmons in Tulsa.
Sharon graduated from McLain High School. Sharon had an interest and talent for art. In her early years she worked for Renbergs, a tennis shop, the phone company and she traveled. She liked music and she liked dancing, even in a wheelchair at the nursing home! Later she began a career working for Dillard's that lasted over 25 years.

In 1985 Sharon married Steve Coons. They were together for 34 years until Steve's death in 2019.
They were inseparable. Because Steve loved to fish, so did Sharon! Their life was made up of weekend commitments to "explore Oklahoma."
They visited every park, every lake, especially small town unknown lakes and all the burger joints along the way! If a point of interest was in the paper or on the news, that was their next adventure. And when they were home, their pleasure was feeding the birds and watching a movie.
Their life was simple, even with their afflictions, but full of love and loyalty beyond words.
Sharon was preceded in death by two brothers, Milton and Robert, two sisters, Jeanine and Charlene. She is survived by two sisters and brothers-in-law, Cherry Fisher (Norm) and Jan Varner (Warren) all in Tulsa. And a multitude of nieces and nephews in Tulsa, Oklahoma City, Dallas and Amarillo.
Words cannot express the gratitude and enormous appreciation to all the nurses and aides over the past 5 1/2 years and for all the Hospice nurses at Emerald Care in Claremore.