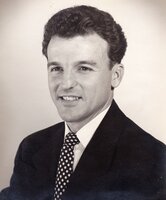 William Robert Grisez, Sr.
William Robert Grisez, Sr. was born May 17, 1923 in Alliance, OH to Bernard Francis & Kathleen (Harmon) Grisez and passed from this life on May 17, 2023 at the age of 100.
Bill grew up in Tulsa, OK attending Holy Family High School. In the summer of 1940, at the age of 16, Bill joined the Army National Guard. He was assigned to the 82nd Airborne where he trained as a paratrooper, rigger and demolitions expert. As WWII raged Bill was called to active duty. On July 9, 1943 Bill parachuted into Sicily about 50 miles behind enemy lines. Amid heavy casualties he was captured by an overpowering German force and held as a prisoner of war forced into hard labor for two years.
Upon his return to the United States, Bill spent the next two years traveling the country on his Harley Davidson motorcycle. He settled in Tulsa, OK and on a chance evening at the local bowling alley he met his wife to be, Rita. Bill formed his own business as an oil and gas distributor, retiring at the age of 75. His hobbies included piloting his own airplane, golf and weekends at Grand Lake with the family.
Bill is preceded in death by his parents and his wife of 66 years, Margaret Rita (O'Brien) Grisez. He is survived by his daughters and sons-in-law, Jeanne Grisez & Steve Hingey, Susie & Rex Browne, Donna Weber, Jacque & Alex Winslow and Julie & Jeff Buch; his son and daughter-in-law, Beau & Lynn Grisez; 14 grandchildren; and 9 great grandchildren.
A rosary will be held 6:00 p.m. Monday, May 22 at the Ninde Brookside Chapel and a Funeral Mass will be held 10:00 a.m. Tuesday, May 23 at Church of Saint Mary. He will be laid to rest following with military honors at Calvary Cemetery.
In lieu of flowers, the family suggests donations be made to Cura Hospice, 4510 E 31st St, Tulsa, OK 74135 or Tunnel to Towers Foundation, 2361 Hylan Blvd, Staten Island, NY 10306.
Ninde Brookside, 918-742-5556, www.ninde.com