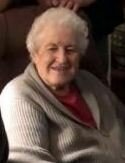 Margie Lou Toops
Margie Lou (Elmore) Toops was born January 29, 1933 in Beggs, OK to Freddie Lee & Yola Beryl (Goade) Elmore and passed from this life on May 19, 2023 at the age of 90.
Margie was a helpful companion to her husband Ben in their Christian ministries. They worked together at Bethesda Boys Ranch and Bethesda Mission Society, with ministries in Jamaica, Surinam and Ghana West Africa. Margie also operated Bethaven Boarding Home with her daughter Deborah for many years. She loved flowers and grew African violets that she enjoyed watching bloom. She also crocheted afghans and was pleased to give away her work.
Margie is preceded in her death by her parents; her husband, Benny Charles Toops; and her daughter, Deborah Grace Toops. She is survived by her children and their spouses, Richard & Carol Toops, Jerry & Beth Toops, Al & Tracy Toops, Tom Toops and Donald & Lourdes Toops; 12 grandchildren; and 19 great grandchildren.
Margie will lie in state from 10:00 a.m. to 8:00 p.m. Tuesday, May 23, 2023 at Ninde Brookside Funeral Home. She will be laid to rest at South Heights Cemetery in Sapulpa in a private family committal.
In lieu of flowers donations may be made to Bethesda Boys Ranch, Mounds, OK.
Ninde Brookside, 918-742-5556, www.ninde.com