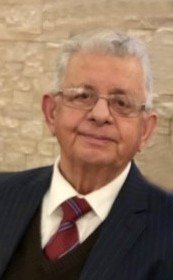 Obituary of Frank Andreas Revelis
Frank Andreas Revelis was born on December 4, 1938 in Archea Feneos, Greece to Andreas and Aspasia Revelis. Frank passed from this life following a sudden stroke on August 6, 2019.
Frank immigrated to Chicago, IL from Greece in 1965, where he met his wife, Kathy Triantafyllou. He and his family moved to Tulsa in 1975 where he opened the Athens Restaurant with his brother, Tom. In 1983 he opened Frank's Gyros with his wife Kathy until his retirement in 2000. After his retirement, they moved to Sheboygan, WI and lived next to his son, John and his family from 2004 – 2016. He was remembered fondly by his customers for his good nature and gracious hospitality. A believer in the American dream of hard work and opportunity, he considered his greatest legacy the education of his two physician sons. In his personal life, he was devout in his Greek Orthodox faith, and was very involved in the Greek Orthodox communities both in Sheboygan, WI and here in Tulsa. He was an avid gardener and loved to spend time with his grandchildren.
He was preceded in death by his sisters, Helen Pettaras and Dina Pistas. He is survived by his wife of 52 years, Kathy, sons and daughters-in-law, Drs. Andreas and Heather Revelis of Tulsa and Dr. John and Lisa Revelis of Sheboygan, WI; his brothers, Bill Revelis of Norridge, IL and Tom Revelis of Joliet, IL; grandchildren: Frank and Nikos Revelis and Katerina, Eleanor, Elizabeth, Stella and Anna Revelis.
Trisagion 7:00 P.M. Friday Ninde Brookside Chapel. Funeral 10:00 A.M. Saturday Holy Trinity Greek Orthodox Church with interment in Rose Hill Memorial Park.
In lieu of flowers donations may be made in his memory to Holy Trinity Greek Orthodox Church, 1222 S. Guthrie, Tulsa, OK 74119 or St. Spiridon Greek Orthodox Church 1425 S. 10th St. Sheboygan, WI 53081.