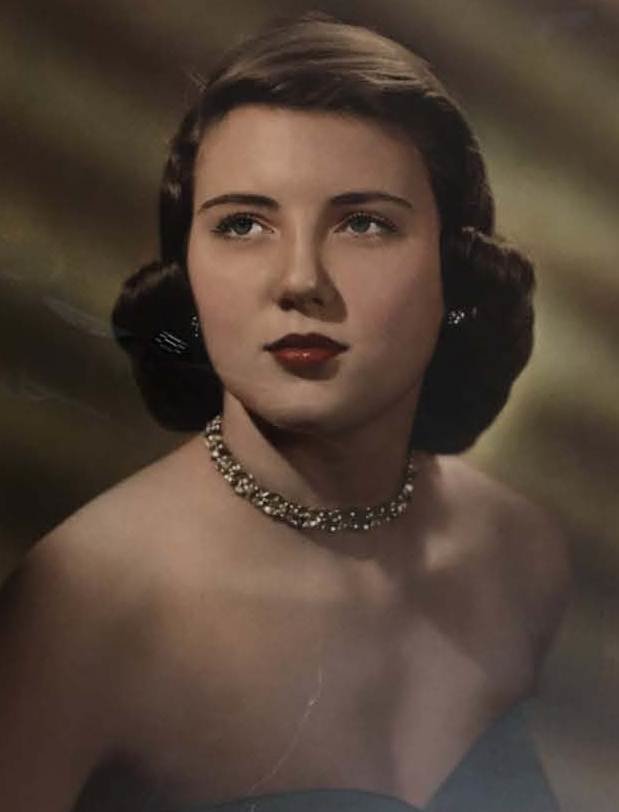 Share Your Memory of
Carolyn
Obituary of Carolyn Hope Brown
Carolyn Hope McArthur Brown, born in Tulsa, OK October 11, 1933 passed away peacefully in her home on Tuesday, August 29, 2017 in Tulsa, OK. She was preceded in death by her parents, late pioneer Oklahomans, Harold S. and Jean Neal McArthur. Harold McArthur (Mac) was a prominent Tulsa criminal defense attorney. She was also preceded in death by her sister, Lahoma Smith of Carmel, CA and sister, Norma Jean Roller, of Houston, TX. She is survived by daughter Holly Jean and husband Stan Earles, grandchildren Chadley Shelton Earles, Linzy Leigh Earles and Mrs. Candace Shae (Earles) Martino and husband Jeff Martino of Tulsa, OK; daughter Michelle Ash of Jacksonville, FL; Carolyn's nieces Jeanne Lynn and husband Robert D. DeHaemers of Miami, FL, Lisa Diane McArthur and husband Peter of San Diego, CA; nephews Daniel McArthur Roller of Utah and Allen Daniel Roller of Orlando, FL.
Carolyn reminisced fondly about growing up with her family in their home on 26th Street in Tulsa. Simpler times when she and her sister Norma Jean would ride the bus for $.15 to Brookside Drug Store for ice cream sundaes charged on their father's tab or to go see a show at the local movie theatre. Stories of playing with childhood friends and sneaking into Philbrook Museum after close, sleeping outside in the family home's open porch, Sunday dinners, roller skating, watching her father ride in horse shows he'd entered for fun, hearing about interesting cases he was trying, stealing the family car, party dresses, dances and dates. After graduating from Tulsa Central High School in 1951, she attended University of Oklahoma and was a member of the Tri-Delt Sorority. In October of 1953 she married Robert G. Ash of Sapulpa, OK whose Air Force duty after graduating OU in Geology took them abroad to Japan for two years. After the service, his career moved them to Denver, CO where daughter, Holly Jean was born. After moving to Wichita, KS and then back to Tulsa where daughter Michelle was born, they resided in Oklahoma City and were married 34 years.
She enjoyed raising her daughters, modeling, alumnae activities, family gatherings, entertaining, traveling, visiting friends and her Oklahoma City PEO Chapter. Then in 1997, Carolyn married her childhood sweetheart, defense attorney Robert G. Brown of Tulsa, OK. They were married 21 years in Tulsa until his passing in 2013. They enjoyed Tulsa together, loved visiting Grand Lake, fishing, cross-word puzzles, playing cards and his cooking! Carolyn loved her family immensely- an eternal optimist, loved to laugh, making others laugh, was an exceptional homemaker and entertainer, fabulous story-teller, interesting and outgoing personality. She loved to travel, fish at Grand Lake and abroad, spin the slot machine, meeting new people, enjoying her friends, reading and watching movies, attending her granddaughter Candace's wedding, her HS reunions, visiting Jacksonville, FL and keeping active.

Carolyn will lie in state 10:00 a.m. to 4:00 p.m. Wednesday at Ninde Brookside Funeral Home. A memorial service will be held 2:00 p.m. Thursday, at Memorial Park Cemetery Chapel.
Visitation
10:00 am - 4:00 pm
Wednesday, September 6, 2017
Ninde Brookside Funeral Home
3841 S. Peoria
Tulsa, Oklahoma, United States

Get Directions
Memorial Service
2:00 pm
Thursday, September 7, 2017
Memorial Park Cemetery Chapel
5111 S. Memorial Drive
Tulsa, Oklahoma, United States

Get Directions