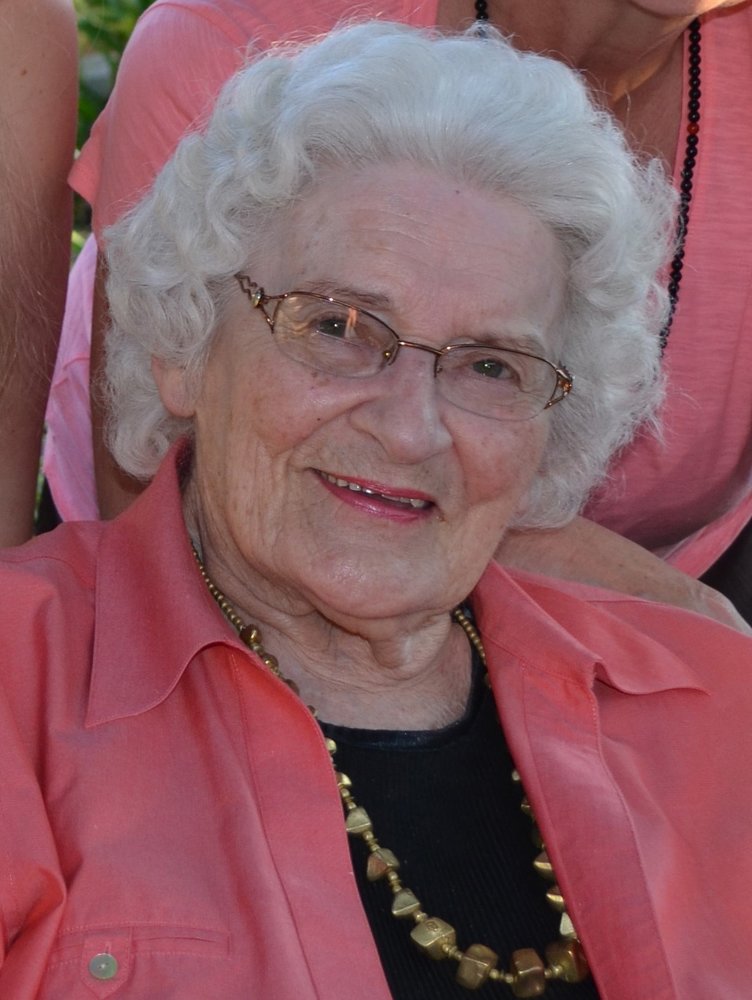 Share Your Memory of
Mildred
Obituary of Mildred Grace Kroblin
Mildred (Milly) Grace Kroblin, was born in Denver, Iowa, where she worked for the
telephone company, Northwestern Bell, as a supervisor before meeting her husband, Allen E. Kroblin. In 1944, they married and moved to Sumner, Iowa, and then Waterloo, Iowa. In 1981 she moved to Tulsa, OK to be closer to children and grandchildren.
She enjoyed being a loving mother, grandmother and great-grandmother and was an excellent homemaker for her family and friends; well known for the best potato salad, chocolate chip cookies and chocolate pudding parfaits.
On weekends, she would pack her Cadillac, urge her dog, Pepe, to "hippity hop" into the car, and be ready to drive to her beloved cottage in Clear Lake, IA. Later years she would spend most of the summer at the lake.
Milly had a good eye for fashion. Anything she picked out seemed to be the item that stood the test of time. That same sense translated to home décor that was always tasteful and welcoming.
She wasn't terribly athletic, although, she would remind you that she played basketball in high school each time she landed a tissue in a trash can from across the room. However, in the winter she would don her yellow and black Ski Doo suit, which matched her snowmobile, and punch the throttle as she headed across the frozen lake.
She wasn't fearless, she had her doubts as we all do. But if she was ever backed up against the wall or if her children were threatened, she had a spine of steel.
For her children she was friend, confidant, cheerleader, nurse and nurturer. She had an uncanny knack of knowing when to comfort and when it was time to give a polite nudge out the door to face the world. As a grandmother, she was relentless when it came to making the children happy. She spent countless hours playing games and often loaded them into the car to get them a "treat". Milly enjoyed traveling, and loved to relate the story of one morning in Mexico when she tried to order pancakes for the children, and they brought out a birthday cake!
She loved entertaining and socializing with her bridge and mahjongg groups as well as
volunteering her support for the Salvation Army. She made everyone who entered her home feel welcomed.
She is survived by four children, Bob Kroblin, Tulsa, Oklahoma, Tom (Lucy) Kroblin, Tulsa, Oklahoma, Linda (Bob) Kroblin Stocker, Bethesda, Maryland and Pat Kroblin, Tulsa, Oklahoma; six grandchildren, Ben Kroblin, Tulsa Oklahoma, Alex Kroblin, Oklahoma City, Oklahoma, Kaira von Salis (Juan Frias), Silver Spring, Maryland, Chris (Margaret) Kroblin,
Tulsa, Oklahoma, Jon Kroblin, Tulsa, Oklahoma and Sarah Bryson, Tulsa, Oklahoma, and four great grandchildren, Paulo, Bruno, Lauren and Lilly.
Memorial Service
2:00 pm - 3:00 pm
Friday, October 27, 2017
Ninde Brookside Chapel
3841 S. Peoria
Tulsa, Oklahoma, United States
918-742-5556

Get Directions