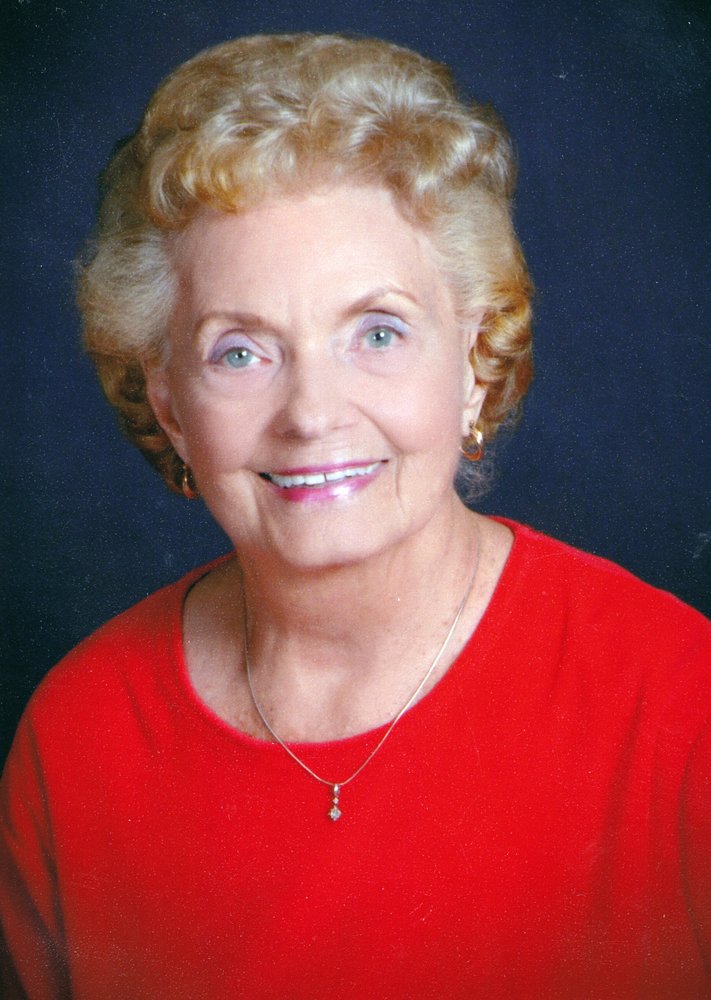 Share Your Memory of
Wanda
Obituary of Wanda Vint
Wanda Vint passed peacefully from this life late Friday evening, February 2, 2018. During the hours preceding, she was surrounded in love by her four children, six grandchildren, and she met her newest two-month-old great-grandchild.
Wanda Pauline Harrod Steele Vint was born to Anna Faye (Brown) and W.W. (Bill) Harrod in Arkansas City, Kansas on Mother's Day, May 8, 1927. According to her elders, Wanda was an energetic, mischievous child full of love, laughter and a pinch of stubbornness—qualities she retained all her life and which served her well.
Wanda was a life-long Tulsan, growing up in the communities of Carbondale and Red Fork in West Tulsa. In 1945, she graduated from Daniel Webster High School, where she had reigned as Miss Daniel Webster VII. After a year studying at Texas State College for Women, Wanda returned to Tulsa and worked as a secretary for Unit Rig and Equipment Company.
In 1946, Wanda married John R. Stepp. They had one son, Terry, from their brief marriage. In 1951, Wanda married Preston Maurice Steele. Wanda and Maurice had three daughters, Carolyn, Susan and Cheryl. Maurice passed away in 1960, leaving Wanda a widow at the age of 33 with four children, ages 15 months to 13 years. For ten years, Wanda supported her family, first by babysitting, then as a secretary after she attended night school. She first worked for an attorney, then at Big Heart Pipeline Corporation. In 1970, Wanda married Jess L. Vint, Jr., president of Unit Rig and Equipment Company. They enjoyed traveling, entertaining, dancing, bowling and golfing during their 35-year marriage.
Wanda joined the First Christian Church in 1951, where she was a loyal member of the Double Ring class. She was an active participant in the Tulsa Mrs. Club for many years and was a member of Southern Hills Country Club. She supported and volunteered with the Tulsa Salvation Army. Wanda was one of the first residents of Montereau, moving to her cottage there in 2001. She enjoyed her life at Montereau, participating in many of the activities and making good friends. Wanda was honored to represent Montereau and her home state as Miss Senior Oklahoma in the 2006 Miss Senior America pageant held in Las Vegas.
Wanda was very grateful to live the last 20 years of her life in sobriety and appreciated the love and support of those who helped her on this journey. Wanda's passions in her long life were her children, grandchildren and great-grandchildren; her many friends; bowling and golfing; and her many, many, many pets.
Wanda was preceded in death by her parents; her brother, William Franklin Harrod; and her husbands. She is survived by her children, Terry Steele and his husband, Steven Thompson; Dr. Carolyn Steele and her husband, Dr. Richard Hastings, Dr. Susan Steele, Dr. Cheryl Clevenger and her husband, Dr. Michael Clevenger; by her grandchildren, Dr. Brooke Hastings Cheatham and her husband, Barry Cheatham, Dr. Lauren Clevenger Spindle and her husband, Dr. Preston Spindle, Kristin Hastings, Ryan Clevenger, Matthew Clevenger and Sarah Steele; and by her great-grandchildren, Owen, Blaine, Tucker and Claire Cheatham and Gabe, Luke and Eli Spindle.
Wanda's family deeply appreciates the long-time friendship and support she received from the staff at Montereau and the care she received from the St. Francis Hospice nurses during her final days.
In lieu of flowers, the family suggests friends may honor Wanda's love and passion for animals with donations in her memory to Tulsa SPCA, 2910 Mohawk Blvd., Tulsa, OK 74110; the Humane Society of Tulsa, 6232 E. 60th St., Tulsa, Ok 74135; or the Animal Rescue Foundation of Tulsa, 5201 S. Yale Ave., Tulsa, OK 74135.
Ninde Funeral & Cremation (918) 742.5556 ninde.com
Memorial Service
2:00 pm
Saturday, February 10, 2018
Warren Chapel at Montereau
6800 S. Granite Ave.
Tulsa, Oklahoma, United States

Get Directions