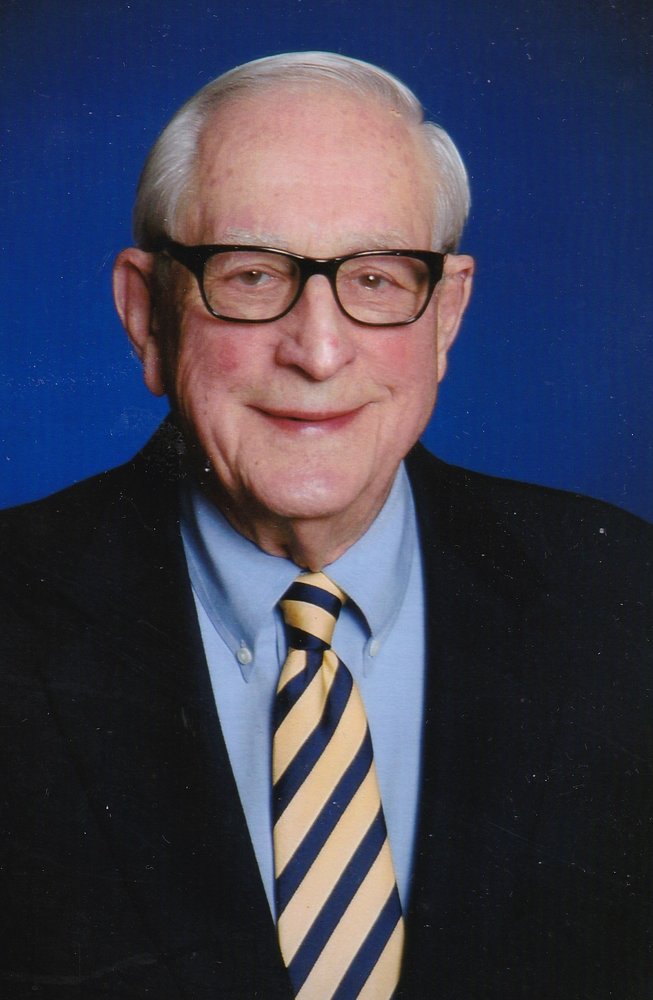 Share Your Memory of
Edward
Obituary of Edward John "Ed" Schroedter, Jr.
Edward John Schroedter, Jr. was born in Milwaukee, WI on May 20, 1921 to Edward John Schroedter and Catherine (Baeirl) Schroedter. Ed died peacefully on Sunday, April 29, 2018 in Tulsa, OK at the age of 96. Ed was married to Frances Jafferis until her death and together they raised three children, Greg (deceased), Kathy and Tom.
Ed earned his Bachelor's degree from Marquette University in 1947 after completing his military service in World War II. Upon graduation, he began teaching at Milwaukee School of Engineering in the evening division and at Marquette University.
After enlisting in the U.S. Army Air Corp, Ed served our country from 1943 to 1945 in World War II as a tail gunner, flying 35 missions over Germany in a B-17. He also served in the U. S. Army during the Korean War from 1951 to 1952. For his military service, Ed earned a Bronze Star for heroic achievement and a Silver Star for bravery in action.
After leaving the academic world in 1949, Ed began his career in industrial relations culminating with his tenure at Outboard Marine Corporation as a Corporate Officer. During his career, Ed worked extensively in all areas of human resources with his primary interest in strategic planning and personnel problem solving. During that time, he served in numerous community service roles and also served as Chairman of the Board of Lake Forest College School of Management.
After the death of his beloved wife, Frances, Ed moved to Tulsa where he met and married Dianne Cline in 1999. Together they spent 19 wonderful years enjoying each other, sharing their love with their children, grandchildren and great-grandchildren (who affectionately called him "Booka").
He was preceded in death by a brother, Howard. Ed is survived by his wife, Dianne; his daughter, Kathy; a son, Tom and his wife, Peggy; grandsons, Andy (Lindsay), Paul (Haley) and Philip; a granddaughter, Emily; and great grandchildren, Theo, Sophia, Luke and Libby; stepson, Jay (Janice) Cline and their two daughters, Mariel and Olivia; and stepdaughter, Laura (Donnie) Lehman and their four children, Mason, Josie, Claire and Kate.
Ed's life was a life well lived. He always displayed grace, love, and a positive outlook on life. He was a true gentleman, always impeccably attired. He established enduring friendships over his lifetime and was a role model to family and friends. He was a devoted and loyal father and husband.
Ed's family would like to extend their deepest gratitude to those who took such comforting care of him during his final days, particularly the clergy at St. John's Episcopal Church, the staff at Clarehouse and the staff at First Call.
A memorial service is scheduled for 2:00 P.M. Friday, May 18th at St. John's Episcopal Church, Tulsa, OK, followed by a reception at the Church. Donations in Ed's name may be made to St. John's Episcopal Church, 4200 S. Atlanta Place, Tulsa, OK 74105; Clarehouse, 7617 S. Mingo Road, Tulsa, OK 74133 or Saint Simeon's Home 3701 Martin Luther King, Jr. Blvd., Tulsa, OK 74106.
Memorial Service
2:00 pm - 3:00 pm
Friday, May 18, 2018
St. John's Episcopal Church
4200 S. Atlanta Place
Tulsa, Oklahoma, United States

Get Directions