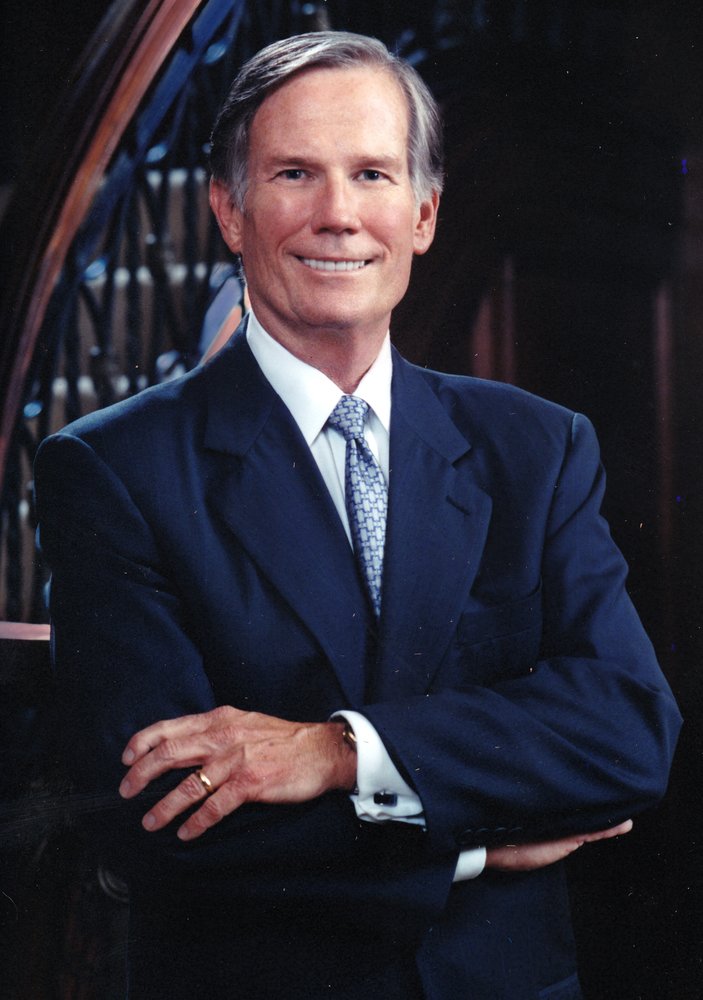 Share Your Memory of
Oliver
Obituary of Oliver Sterling Howard
Oliver Sterling Howard died peacefully, surrounded by his family on Monday, May 21 after a brief hospitalization. He was 72 years old. Oliver was born on October 24, 1945 in Oklahoma City to F.S. and Ann Howard. He grew up in Holdenville, Oklahoma and was the youngest of four siblings; Dr. Frank Howard, Dr. George Howard and Mary Helen Rusher. He graduated valedictorian of his Holdenville High School class in 1963.
Oliver's first profession, the ministry, began when he was 16 years old. His parents were active members in the Holdenville Church of Christ, and Oliver preached for small churches around Holdenville. Oliver attended Oklahoma Christian College in Oklahoma City, where he earned a degree, with high honors, in History and Biblical Literature in 1967. It was there he met his wife of 52 years, Meredith (Siner) Howard. Oliver and Meredith's early life together centered around Oliver's studies and ministry. Oliver served many small congregations in Oklahoma, Texas, New Mexico, and later in Indiana and Ohio. Oliver graduated from Abilene Christian College in 1970 with a Master's Degree in Biblical and Patristic Greek and Biblical Literature. That same year, Oliver and Meredith welcomed the first of their three daughters, Heather. The family moved to Sunman, Indiana in 1970 where Oliver preached and began studying for his Ph.D. at Hebrew Union College in Cincinnati, Ohio. In 1973, the family moved to Cincinnati, where Oliver would serve his last congregation at the Norwood Church of Christ. During their years in Cincinnati, Oliver and Meredith welcomed two more daughters, Jennifer and Amber.
1975 was a turning point in Oliver's life. He decided to leave church work and pursue a new career in law. He entered law school at the University of Cincinnati in 1975, though he continued to complete his doctoral degree. Oliver earned his Ph.D. from Hebrew Union in 1978 in Biblical and Early Rabbinic Jewish literature. He graduated from law school the following year, where he was Order of the Coif and editor of the Law Review.
In 1979, the family returned to Oklahoma and Oliver began his legal practice at the Gable Gotwals firm in Tulsa. He would work there for the next thirty-nine years. Oliver handled complex litigation matters and excelled as a trial attorney, obtaining numerous successful outcomes for his clients. Notably, in 1996, Oliver served as lead trial lawyer in a case arising from a failed merger between two energy companies, and obtained a jury verdict and judgment in the amount of $742 million, the largest judgment ever awarded in Oklahoma.
Over the course of his legal career at Gable Gotwals, Oliver served in various positions of firm management, including President and Chairman of the Board of Directors. He also has served for more than ten years as an Adjunct Settlement Judge for the United States District Court for the Northern District of Oklahoma and served on the Committee on Admissions and Grievances for the Northern District. From 1991 to 2000 Oliver served as a member of the Board of Visitors of Pepperdine University College of Law. He was named to Best Lawyers in America and Best Lawyers in Oklahoma. He was inducted as a fellow into the American College of Trial Lawyers and the International Academy of Trial Lawyers.
Throughout his legal career, Oliver remained engaged in religious life. He and Meredith were members of Harvard Avenue Christian Church. Oliver regularly taught Sunday school for his beloved "Challengers" class. He served on various church leadership boards, and was a member of the choir. Oliver served on the board of the Phillips Theological Seminary, where he also taught as an adjunct professor. Oliver also served for many years on the board and was past president of the Oklahoma Center for Community and Justice (OCCJ), an organization that promotes interfaith dialogue, diversity and inclusion. Over the years, Oliver also officiated at many marriage ceremonies and gave many eulogies for family and friends.
Despite a demanding career, Oliver remained a loving husband, father, uncle, grandfather, and friend. His wise counsel was sought by many, and he freely provided loving guidance and support to those who asked. He loved hosting gatherings of family and friends, preparing meals, and reminiscing about loved ones and happy memories. Above all, Oliver loved his wife, Meredith. Together they raised their three daughters, traveled the world, and played many rounds of golf. They embraced their six grandchildren, and went to great lengths to ensure that each of them felt loved and special. Oliver's kind heart, generous spirit, keen intellect, and wise counsel brought such lovely light into the world. He will be greatly missed.
Oliver was preceded in death by his parents, Ann and F. S. Howard, his parents-in-law, Mildred and T.H. "Booster" Siner, his sister Mary Helen Rusher, his brother-in-law Jim Siner and sister-in- law Shirley Howard. He is survived by his wife Meredith Howard, of Tulsa, his daughters: Dr. Heather Revelis and her husband Dr. Andrew Revelis, of Tulsa; Jennifer Blankenship and her husband Bill Blankenship, of Dallas; and Amber Howard Cornelius and her husband Carl Cornelius of Tulsa; grandchildren, Frank and Nikos Revelis, William and Caroline Blankenship; and Oliver and Samuel Cornelius; brothers Frank Howard and wife Betty, of Shawnee and George Howard of Athens, Georgia; brothers-in-law Dennis Siner of Muskogee and Tim Rusher of Oklahoma City; sister-in-law Dianne Gustin of Knoxville, Tennessee and many nieces and nephews.
A celebration of Oliver's life will be held at Harvard Avenue Christian Church at 10:00 a.m. on Friday, June 1. In lieu of flowers, donations may be made to the Camphill Special School, 1784 Fairview Rd., Glenmoore, PA, 19343, where his grandson Frank Revelis attends, or to the Oklahoma Center for Community and Justice/Camp Anytown Scholarship Fund, 100 West Fifth Street, Suite 335, Tulsa, OK 74104.
Memorial Service
10:00 am - 11:00 am
Friday, June 1, 2018
Harvard Avenue Christian Church
5502 S. Harvard
Tulsa, Oklahoma, United States

Get Directions